Greenhouse Orientation and Location Tips
If you're an avid gardener or someone who wants to try their hand at horticulture, you more than likely know the importance of good growing conditions. You want to make the most of the land you have to work with and keep your plants going for as much of the season as possible. Some plants need more sunlight than others while some enjoy heavy humidity. Many plants also need to be brought in for the winter, which can create a mess if you don't have a lot of places to store them. The solution to all of this is a greenhouse.
Greenhouses are the perfect place to keep your plants safe from the weather and animals. But where to put the greenhouse? This article will cover greenhouse location, orientation, and positioning tips so you can get the most out of your greenhouse.
What is a Greenhouse?
A greenhouse is a structure that uses a special plastic covering to store heat inside it and reflect an adequate amount of sunlight on your plants. It can help you to grow plants year-round while keeping pests out. You can find them in a variety of styles so you can find a model that fits your yard perfectly.
There are a few major types of greenhouse to consider, and each has advantages and disadvantages. Most greenhouses are made of glass or polycarbonate, but buyers should also consider portable greenhouses and polytunnels. See here for information on polytunnels vs. greenhouses.
Why a Greenhouse is Good to Use
Greenhouses come with an incredible amount of benefits. Below are just a few that they offer.
Year-Round Fruits and Vegetables
Many often yearn for spring and summer because of the abundance of fresh fruits and vegetables. But that late fall and winter season is pretty difficult for many across the globe, as it is essentially impossible to grow many plants when it's near freezing out.
With a greenhouse, you can extend your growing season by several weeks on both ends of the spectrum. Start earlier in the spring, and end later in the fall/winter.
This extended season is a huge boon to plant productivity, and can result in much greater yields overall.
Depending on where you live, you may be able to grow crops year round in a greenhouse, especially if you use a greenhouse heater.
Fresh Flowers
Imagine being able to clip fresh sunflowers or zinnias in the middle of January. With a greenhouse in the right environment, you can. You can grow flowers throughout the year so you can adorn your living space with fragrant cuts.
Bring some spring cheer in the dead of winter!
The Ability to Grow Non-Local Plants
Some gardeners want to grow unique and rare forms of plants. However, many can't because of the local climate or animals who might get to them.
Greenhouses can help you to grow interesting plants that you would otherwise be unable to, whether those plants be exotic palms, cactuses, or other unusual plants that simply don't grow in your area.
Faster Plant Growth, Higher Yield
Because a greenhouse will trap heat and sunlight, plant will grow faster than they otherwise would. This way, you won't have to wait months for vegetables or flowers to full form, but rather just a few weeks.
The greenhouse optimizes what plants love most, and can really make a huge difference when it comes to yield.
---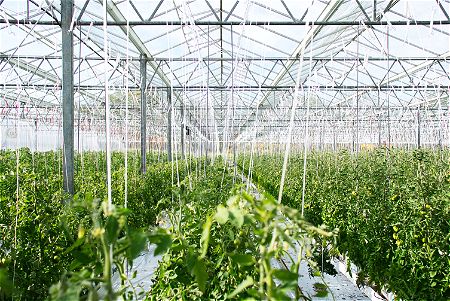 Siting Your Greenhouse
Before you setup your greenhouse, it's important to plan out where to put it in your yard. Below are some helpful location tips to consider.
Distance from the House
Assuming the greenhouse you're looking to setup is going to be on the same property as your home, you'll want to consider how far you want the greenhouse to be from the home. Generally, the shorter the distance, the better.
If you want to run water and electricity to the greenhouse, the shorter the excavation, the less expensive the utility setup.
And perhaps most importantly, you want to consider that you'll be using the greenhouse a lot in the winter, and that means going outside, perhaps in snowy conditions, to cross from the home to the greenhouse.
Are you going to want to trudge through the snow 30′ to the greenhouse? 50′? 100′? This is an important consideration! Many of us simply don't want to go outside when there's heavy snow on the ground, and a long walk through a challenging environment to get to the greenhouse may encourage us to skip it and curl up with some Netflix instead.
Ground Topography
You generally want to ensure that your greenhouse is placed on level ground. It's a good idea to check the base beforehand to make sure your greenhouse will stay secure on it. Depending on the design of the greenhouse, you may want it on concrete, wood, or other solid material. This way, it won't sink or tilt.
If you don't have much flat ground where you want to place your greenhouse, you may want to consider a polytunnel. These structures are much more forgiving when it comes to topography, and you may avoid having to do a costly excavation.
You also want to make sure the ground has good drainage. If not, water could collect underneath the structure and cause many problems, like mold.
Greenhouse Orientation and Sun Exposure
Depending on your goals for plant growth and plant type, there are two major schools of thought for greenhouse orientation.
There's also a third major way of thinking, and that is to not worry so much about the greenhouse orientation, but instead focus on the plant orientation inside the greenhouse.
We'll consider the three strategies here.
1. Capture as Much Morning Sun as Possible (orient north-south)
By orienting your greenhouse to capture as much of the morning sun as you can, you'll help get the moisture off of the plants as early as possible during the day, and will help boost plant growth throughout the day.
If you're looking to grow standard vegetables that ripen in summer and early fall, you'll probably want to focus on this goal. Orient your greenhouse so that it is positioned in a north-south format.
However, in many areas, you run the risk of giving your plants too much sun, and therefore too much solar heat gain inside the greenhouse. In these cases, you may need to worry about getting rid of that heat through ventilation, pedestal fans, and the like.
2. Focus the Winter Sun (orient east-west)
Winter sun is a precious commodity in those cold months, and every drop of it helps! If you're primarily using your greenhouse to grow fall, winter, and early spring plants, you'll want to prioritize getting the winter sunlight into your structure.
In these cases, you'll want to orient your greenhouse in an east-west position, to enable the more horizontal in the winter to strike the greenhouse as much as possible.
3. Orient the Plants, not the Greenhouse
This school of thought says don't worry so much about the position of the greenhouse itself, as it's going to get sun throughout the day if it's in a sunny area. Many gardeners are going to be working with less-than-ideal situations, so just roll with it.
Instead, focus on positioning the plants inside the greenhouse to maximize light exposure when and where you want it.
This strategy is generally not ideal, but it works for both winter gardening and summer gardening. It requires that you learn how the plants grow best in your environment and that you position them inside the greenhouse to maximize their growth. And of course, this may lead you to times where you'd like to orient your crops in a diagonal direction inside your greenhouse, which makes for very awkward movement through the space!
Water Source Location
Water is the other key ingredient in a greenhouse, so you want to be sure that you have easy access to water wherever you choose to put your greenhouse. Remember that if you have a hose running to your greenhouse, it can freeze between the main house and the greenhouse if it's not buried an appropriate distance underground.
If you have a small greenhouse, you can probably just use buckets and do it the old-fashioned way. Alternately, you can run your hose in and out of the greenhouse each time you water.
But it may be best to have a water line run to the location of the greenhouse prior to pouring the foundation base, or setting up the greenhouse.
Electrical Outlet Location
Besides a water source, it's also a good idea to make sure you put your greenhouse near a spot with an electrical outlet. This will help you to plug necessary equipment in without needing to use extension cords. It's especially important there's an electric outlet in your greenhouse as you need to run a fan inside to keep air circulation moving.
Be sure you consider the overall load of all the items you plan to have running in your greenhouse. Should you want a heater or two, some lights, a misting fan, a TV (ok, kidding there!) you'll probably want to increase the overall amperage on your breaker to compensate for the significant load you'll be using up.
Proximity to Trees and Windy Areas
Another important tip to keep in mind is to keep the structure away from trees if possible. Tree branches could accidentally fall on your greenhouse, which will not only damage it but could destroy your plants inside. Because of this, it's a good idea to stay safe and make sure your greenhouse is far away from trees.
If there happens to also be a particularly windy area in your yard, make sure to keep the greenhouse away from that. The covering of a greenhouse is strong, but not durable enough to withstand heavy wind. If you don't want to have to keep replacing its plastic shell, make sure to keep it away from windy areas in your yard.
Consider Kid Play Areas
Plants that live in glass houses don't throw stones, but kids who play near greenhouses sometimes throw balls. That's what they say, anyway!
If you have kids who like to play sports, there's always a concern about an errant baseball or golfball smashing into your greenhouse. Consider the location where your kids typically play, and try to keep the greenhouse a distance from that area, as well as out of a direct line from that area.
---
Conclusion: Greenhouse Location and Setup
Greenhouses are the perfect addition to add to your yard for many reasons. Not only will a greenhouse allow you to grow plants at various times of the year, but the plants will be sheltered and nourished.
If you're looking for a way to grow exotic flowers or just to keep up your gardening hobby year-round, a greenhouse is an ideal item to add to your yard.
Site your greenhouse with care, and do the best you can to maximize your plant yield, while minimizing your headaches.
Happy gardening!
---