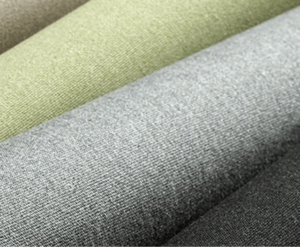 Finding the right outdoor fabric can be difficult. There are so many styles, brands, and designs, and virtually every manufacturer claims their materials are UV resistant, water resistant, and fade resistant. But as everyone who owns outdoor furniture knows, many materials are prone to fading and deteriorating with exposure to the elements. So which types of outdoor fabric are best?
In this article we touch on the major types and brands of outdoor fabric, and the common fabric parameters to consider when shopping for outdoor fabrics.
Types of Outdoor Fabric
In this section we look at several of the most common fabric types, and the brands around these outdoor fabrics.
Acrylic
Acrylic is a synthetic fabric made from a polymer known as polyacrylonitrile, invented by DuPont in the early 1940s. It is commonly used in clothing (think track suits) and is soft to the touch, quick drying, and mildew-resistant. It also tends to stay cool in sunlight. Acrylic is an excellent outdoor fabric. The most important type of acrylic for outdoor fabirics is Solution Died Acrylic.
Solution-Dyed Acrylic: Sunproof Fabric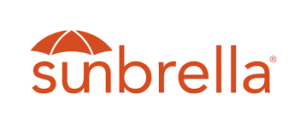 Solution-dyed acrylic is a type of acrylic that is created by mixing the fabric color in with the fabric before it is spun. It was invented in the 1960s in order to provide more robust outdoor fabric materials.
The solution-dying process means that the fabric color is a part of the fabric itself, as opposed to having a colorless spool of fabric, and then soaking it in a colorant. Coloring the raw materials of a fabric results in a higher quality fabric.
Sunbrella Outdoor Fabric: The Best Outdoor Fabric
What is Sunbrella fabric?
Sunbrella is the most famous Solution-dyed Acrylic brand Sunbrella is known to be the most fade resistant, water resistant, and mildew resistant outdoor fabric available. It is often considered to be a bit on the scratchy side, though.
Sunbrella is widely available, and comes in a huge array of designer colors, patterns, and looks. It is commonly used in umbrella canopy fabric, chair cushions and pillow fabric, etc. The lines of fabric Sunbrella makes is quite varied, with commercial fabrics, elbertex fabrics, strapping, sling fabric, etc. to choose from.
Sunbrella fabric is widely regarded as the best outdoor fabric brand, and the best fabric for outdoor cushions.
Other Solution-Dyed Acrylics
A few other common brand names of acrylic are Oatdura and Spuncrylic. The primary qualities of these fabrics are similar to Sunbrella, but typically they are priced a little bit lower due to their lack of brand recognition.
---
Olefin Fabrics: Fade Resistant Fabric
Another commonly-seen outdoor fabric is Olefin. It is frequently mentioned in connection with polypropylene. These fabrics tend to be a little bit less pricey than high end Acrylic fabrics like Sunbrella, and are found more often as umbrella canvas rather than, say, pillows. So what is Olefin fabric?
What is Olefin Fabric Made Of?
Olefin fabrics are also synthetic fabrics made from polypropylene or polyethylene, and are commonly used in carpeting, vehicle interiors, and ropes. The process of making Olefin fabric is rather environmentally friendly, as there is extremely little waste generated in making these fibers.
Is Olefin Fabric Fade Resistant?
These fabrics are colorfast, are fade and stain resistant, and are quick to dry. Olefin fabrics are often a little rougher to the touch than Acrylic fabrics, but are available in a wide variety of textures.
Is Olefin Durable?
Olefin is quite durable and attractive, which is why it is commonly chosen as an automotive fabric.
Is Olefin the same as Polypropylene?
Essentially, Olefin is the same as polypropylene fabric. It has a friendlier, less chemical-sounding name that is a bit easier to market.
---
Polyester: Outdoor Canvas Fabric
Polyester fabric is strong, quick drying, and often quite inexpensive. The most obvious issue with polyester is that it is prone to fading, and the wide variety of quality levels based on the thickness of the material. It is commonly used in an outdoor environment for umbrella canvas, patio furniture cushions, etc.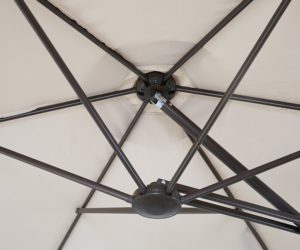 When shopping for outdoor fabrics, you will commonly see Polyester with a GSM number associated with it, like 180GSM or 250GSM polyester. GSM stands for Grams per Square Meter, or Grammage. The higher the number, the thicker the fabric, the better the quality for outdoor fabrics.
You will also often see fade resistance ratings for polyester fabrics. Frequently materials will identify length of exposure prior to fading (e.g. 2,000 fade resistant polyester). These numbers can help identify higher quality fabrics.
Spun Polyester Weather Resistant Fabric
Spun Polyester threads are made up of thin pieces of polyester fabric spun together. The net effect of this design is a fabric that looks and feels like cotton, but has the strength, weather resistance, and sun resistance of polyester.
---
PVC Polyester
PVC Polyester has a plastic coating around a polyester fiber core. Typically these fabrics are used in ropes and slings, as opposed to pillows, cushions, etc. PVC Polyester is often very water-resistant, and quite strong.
Fabric Properties
UV Resistance, Sun-Resistant Fabric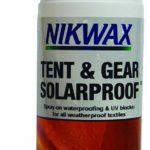 UV Resistance identifies how long a fabric will last when exposed to direct sunlight. Fabrics tend to break down when constantly beaten upon by light, and UV Resistance quantifies the strength of the fabric. Typically a grade of 3 or more is considered excellent.
Some manufacturers have begun selling UV-resistant sprays [Amazon Link] that can be applied to fabrics to increase UV-resistance. Depending on the circumstances of your fabrics, these sprays can significantly increase the life of your outdoor materials.
---
Color Fastness / Fade Resistance
This rating is often connected to European Standard Levels (e.g. ESL Grade 4), and identifies how rapidly the fabric will fade in the sun. Often an estimated hourly exposure is given, for example colorfast to 1,000 hours.
Color Fastness and UV Resistance are largely related.
---
Clean-ability
This rating will identify how easy a fabric is to clean. Of course, some outdoor fabrics can be easily removed for machine washing (such as outdoor cushions), but others cannot (such as patio umbrella canvas). Ease of cleaning a fabric is always an important consideration.
---
Water Resistance
Water resistance identifies how much the fabric will repel water. Most common outdoor fabrics are water resistant, not water proof. Fabrics like the materials found on tarps or tyvek are water proof, but typically are not comfortable enough to be used on furniture, umbrellas, and the like.
Water resistance is an important factor in outdoor fabric, but when we possible we suggest storing cushions and fabrics in a deck box, or under a protective cover to increase the life of the fabric.
Conclusion: The Best Outdoor Fabrics
We have covered the major types of outdoor fabric here, and identified several of the major brands. When shopping for your next outdoor furniture set or patio umbrella, you'll now have the right information in hand to make a decision whether to spring for the Sunbrella vs. the 250GSM Polyester.
Happy Fabric Shopping!