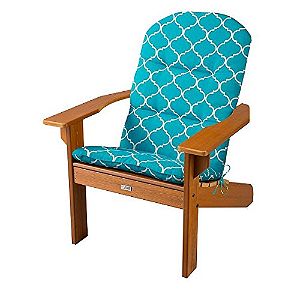 Adirondack Chairs are timeless staples of American outdoor furniture design. They are classically modern without striking a bold stance, and exude summertime air! However, they can be, well, a little bit uncomfortable to sit in after a little while. So buyers may want to consider Adirondack Chair Cushions for their chairs, which will significantly increase the coziness of an Adirondack Chair.
However, finding the right size and fabric can be difficult. Our article today looks at several different Adirondack Chair Cushions, identifying size availability, fabric types color options, and price points. Read on to find the perfect cushion for your Adirondack chair!

Adirondack Chair Cushions Reviewed
---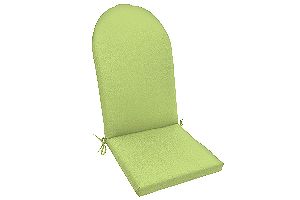 The Easy Way Products Knife Edge Adirondack Chair Cushion Line starts us off with a dizzying array of options! With 15 fabric choices, including several Sunbrella fabric options, and 24 sizing options to choose from, you can zoom in on exactly what you need for your Adirondack Chair Cushion.
Key Points at a Glance
Cushion is custom made to your order
Available in several fabric choices, including 10 Sunbrella fabrics
100% Densified Polyester Filled and sewn
Fade, stain, and mildew resistant
Dimensions
Available in 24 different size options
Length: from 42″ – 47″
Width: from 19″ – 22″
Thickness: 2.5″
The Details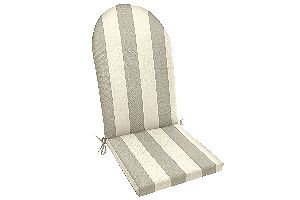 The Easy Way Products line of cushions is a great way to get exactly what you want, though you will have to wait (a little while) for your cushion. These units are made to order in 24 different size increments and feature a curved back top that fits many Adirondack chairs very nicely.
Once you have the exact size and fabric identified, you purchase on Amazon, and Easy Way Products begins custom production of your Adirondack Chair cover.
If your chair has a wide seashell-style back and narrow base, like this Lifetime Adirondack Chair [Amazon Link], these cushions will result in a bit of an awkward shape. However, in many cases, these cushions are going to be the easiest way to get the exact size that you need for your Adirondack chairs.
Custom Adirondack Chair Cushions: The Bottom Line
Going the custom route may be the path of least resistance in order to get the perfect Adirondack Chair Cushion. These cushions are quite nice, but they are on the pricey side, even considering that the fabric is Sunbrella. Still, if you want the best fit possible, the easiest way to go is custom. You'll just have to wait a little while to receive your cushion.
No products found.
---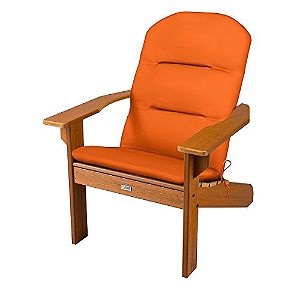 DermaPad has a huge array of funky Adirondack Chair cushion fabrics to choose from, most of which are made from spun polyester, with a few yarn-dyed woven fabrics.
Key Points at a Glance
27 Fabric color choices, including a whole lot of funky styles if you want to go wild
Designed to fit (approximately) a wide range of Adirondack chairs
Dimensions
Length: 46″
Width: 22″
Thickness: 2-1/2″
The Details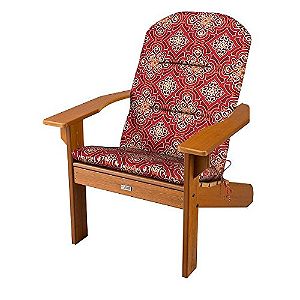 The DermaPad Adirondack Chair cushion line has a large selection of print and color options, some of which are really interesting, and some of which (in our opinion) really do not belong on an Adirondack chair! The Adirondack chair is such a classic, modern, iconic design, and some of the fabrics here just don't seem to fit. However, some of them do, and they can make an otherwise-boring Adirondack chair into something special!
The DermaPad Adirondack chair cushion is a pleasant 2.5″ thick and is sized to fit a large number of Adirondack chairs on the market today.
The cushions are made largely of spun polyester, which is definitely a step down from solution-dyed acrylic (Sunbrella) but is an acceptable choice for an outdoor fabric. Some of the fabrics are made of yarn-dyed woven fabric. See this article more information on outdoor fabrics. These cushions should not be left out in the sun, and the elements, when not in use. They will keep their color for much longer and will stay in much better condition if they are stored in a deck box or garage when not in use.
The price point the DermaPad line hits is pretty attractive, and given the large number of interesting fabric options, makes this line a compelling purchase option.
Cheap Adirondack Chair Cushions: The Bottom Line
If you don't want to shell out the significant coin for a high-quality Sunbrella cushion, but you want some funky fabrics to choose from, the DermaPad line of Adirondack Chair fabrics is a great choice. With these, you have the opportunity to really amp up the design sense of your Adirondack chair. Be wary of leaving these fabrics in the sun and rain for too long, as they will deteriorate. And a few of those fabrics really go wrong, so don't go too crazy!
DermaPAD Adirondack Chair Cushion 46" x 22" x 2-1/2" (Madeira Blue Print)
If you find your Adirondack chair a little hard to sit on for an...
Designed to fit most standard Adirondack chairs, this knife-edge...
The Adirondack Chair Cushion offers excellent comfort and has fabric...
The 46" x 22" Adirondack Chair Cushion is covered with durable 100%...
Note: Cushion measurements are listed in this order: Length x Width x...
Last update on 2021-06-17 / Affiliate links / Images from Amazon Product Advertising API
---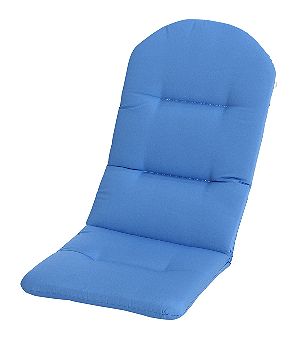 Phat Tommy is a great outdoor goods company with a really fun corporate image and some high-quality products. These Adirondack seat cushions are no exception. They are made of Sunbrella fabric and are available in 11 different fabric options. They are designed to fit a middle road of Adirondack chairs and are a pretty successful offering.
Key Points at a Glance
Made of durable, beautiful Sunbrella solution-dyed acrylic fabric
Available in 11 different fabric and color options
Features a 5-year warranty
Strap near the top (10″ down) for securing the cushion to the frame
Dimensions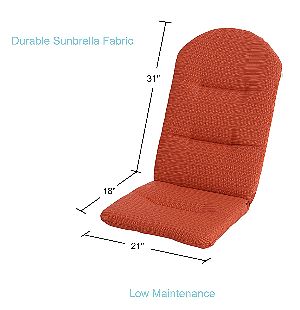 Length: 49″
Back Length: 31″
Seat Length: 18″
Width: 21″
Thickness: 3″
The Details
The quality of these cushions is very high, as is the price. Made with Sunbrella fabric and stuffed with 3″ of polyester fill, these cushions turn the most (ahem) uncomfortable Adirondack chair into a super relaxing chair. And they look great doing it!
The foam on these cushions is pretty firm and thick at 3″. Even after sitting on the cushion for a long while, it still will be quite comfortable.
While they do not offer custom fits, the standard size will fit many Adirondack chairs, and the price on these is surprisingly good, given the fact that they are made of Sunbrella fabric, and are covered under a 5-year warranty. While we still feel that these should be stored in a deck box or out of the weather when not in use, for the most part, they are pretty indestructible. They are UV resistant, fade resistant, and if they get wet, they may be squishy for a while but will dry out and be as good as new.
There have been a few reports of small rips in the cushion fabric upon receipt, so be sure you take a close look at your Phat Tommy Adirondack Chair Cushion when you receive it to ensure it is in great shape.
Sunbrella Adirondack Chair Cushions: The Bottom Line
The Phat Tommy line of Adirondack Chair Cushions doesn't offer custom sizing, but is sized in a pretty middle-of-the-road way that should fit many Adirondack Chair brands. The selection of fabrics is not dizzying, but is nicely curated and has some excellent color options. Given that all of the fabric is Sunbrella, and is positioned at a nice price point, the Phat Tommy line is a great option for many who don't need to-the-inch sizing.
Last update on 2021-06-17 / Affiliate links / Images from Amazon Product Advertising API
---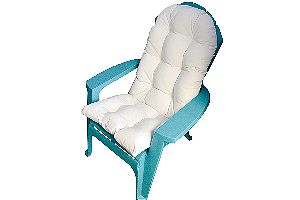 Like the idea of a white cushion for your Adirondack chair? Want Sunbrella fabric? then the Resort Spa Home Decor Tufted Adirondack Chair Cushion is a great option at a stellar price point!
As long as you, well, just want white.
Key Points at a Glance
Available in white Sunbrella fabric
Features tufted design
Made in the USA
Dimensions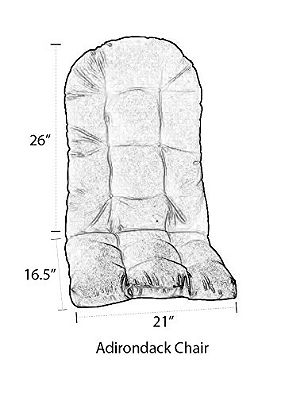 Length: 42.5″
Back Length: 26″
Break Location: 16.5″
Width: 21″
Thickness: 2″
The Details
The Resort Spa Home Adirondack Chair cushion is a high-quality white Sunbrella fabric cushion, designed to fit a slightly smaller than average Adirondack chair. This chair cushion runs a little on the short side, but it is in the range of many of the Adirondack chairs on the market.
This cushion is made in the USA and features an attractive, classic tufted design. As an additional plus, ties are included with this cushion, which will help hold it to the chair underneath.
The obvious downside of this cushion is that it is only available in white, and even though it's made of Sunbrella fabric, white cushions tend to stain, even in the best of environments. So be prepared to do some cleaning. The good news is that Sunbrella fabric is fairly easy to clean with soap and water. Also, being white, this cushion is quite fade-resistant.
You should certainly store this cushion in a deck box, shed, or other storage unit when not in use. This will significantly increase the usable life of the cushion. If it does get wet, the fabric will dry out fairly quickly, but the polyester fill will take some time to dry out.
The Bottom Line
The price on these Sunbrella cushions is unbeatable, especially for a product made in the USA! That's the prime reason we have this single-color Adirondack chair cushion on our list. Sunbrella fabric at an unbeatable price. Pay attention to the dimensions, and compare to your Adirondack chair. Oh, and don't spill any red wine or coffee on the cushion!
No products found.
---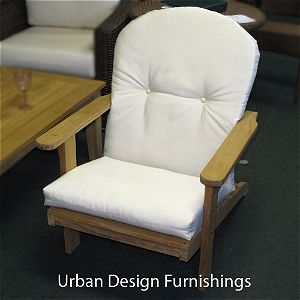 Like the Easy Way Products line of cushions mentioned above, the UrbanDesignFurnishings cushions are custom made to order. Unlike the Easy Way Products cushions, these cushions are made to a standard size but have nine different fabric options to choose from. These cushions are made of Sunbrella fabrics, which is great, and they are positioned at a pretty aggressive price point. It does take some time to between order and delivery in order to make and ship the cushion, though, which is a bit of a downside.
Key Points at a Glance
Custom made cushions
Available in 9 Sunbrella fabric options
Designed with modern-looking two-point tufted style
Dimensions
Length: 49.5″
Back Length: 28.5″
Seat Length: 21″
Width: 21″
Thickness: 2″
The Details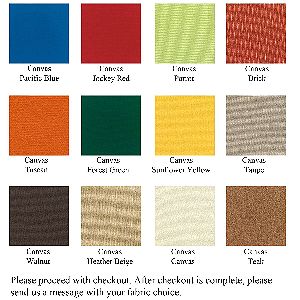 UrbanDesignFurnishings has a nice color selection of Sunbrella fabrics for buyers to choose from and a pretty quick turn-around time for a custom shop. Typically orders can be delivered in a few weeks, and in some cases, about a week, depending on the location of the order.
These fabrics are all Sunbrella fabrics and are positioned at a great price point. They are cheaper than the Phat Tommy Sunbrella cushions mentioned above, though they are only 2″ thick compared to Phat Tommy's 3″ of padding, which is a bit of a let down. There is an option to get a thicker cushion, though that will raise the price.
Still, the pricing here is aggressive, and it is nice that these cushions are made to order. To order the color you desire, buyers simply purchase the "standard" color option, and then email the seller post purchase identifying the color swatch that you would like.
As with any fabric, including Sunbrella, it's always wise to store these away inside or in a deck box. This way, they will have the longest possible life, and fade as slowly as possible.
The Bottom Line
The UrbanDesignFurnishings line of Sunbrella Adirondack chair covers is custom made, and are priced at a great price point. There are only 9 color options to choose from, and the cushions are only 2″ thick, but the look of the cushions is stylish, and the size seems to be a good dimension to fit a wide variety of different Adirondack Chairs on the market. If one of the nine cushion fabrics appeals to you, then these cushions are a good choice.
Last update on 2021-06-17 / Affiliate links / Images from Amazon Product Advertising API