Best Beach Lounge Chair
The best beach lounge chair is the Ostrich Delux Padded 3n1 lounge chair. This chair is available in four stylish color options and is made from light-weight, rust-proof aluminum. It is the lightest chair on our list, and it includes a carry strap for easy transport to and from the beach. It also has the highest weight capacity of all the chairs on the list.
And finally, it includes lots of padding and a clever face and armhole design that allows users to lay face down on the chair and read a book or use a tablet/phone while sunning themselves. It is a very clever design and really brings the comfort to another level.
However, it is on the expensive side, even accounting for its quality.
Last update on 2021-10-11 / Affiliate links / Images from Amazon Product Advertising API
For a full review of the Ostrich 3n1 chair, see our Product Reviews section below.

Runner Up: Best Folding Beach Lounge Chair
The next runner-up is the Sport-Brella Recliner Chair. It won't allow you to lie face down, and it won't fully recline, although it does lean back to a comfortable resting position. If you love to read out of doors, the adjustable umbrella, with its aluminum underside coating, gives excellent protection from UV rays and from glare on your book or viewer.
The footrest is removable, so if you are in a situation where you do not want to recline and simply prefer to use it as a chair, the foot rest can be stored in the handy carry bag.
In quality, it is comparable to the Ostrich Chaise Lounge. It simply has a somewhat different approach to comfort.
Last update on 2021-10-18 / Affiliate links / Images from Amazon Product Advertising API
For a full review of the Sport-Brella, see below.
Budget Pick: Beach Chaise Lounge
If you are on a budget and are just looking for a good lounge chair for your patio or even to take to the beach, the Ostrich Chaise Lounge Chair is an excellent choice. Available in a variety of colors, it not only provides comfort when you are sitting up or lying in a reclining position on your back, but it also affords the chance to get some sun on your back without getting a crick in your neck from turning your face to one side or the other.
It's really pretty similar to the Ostrich Delux 3n1 Chair, but has fewer cushions, is a little heavier, and doesn't have wooden arm rests. It has a steel frame, which is much more rust-prone than the aluminum on the 3n1.
But it's also much, much cheaper.
Last update on 2021-10-17 / Affiliate links / Images from Amazon Product Advertising API
For a full review of the Ostrich Lounge chair, see our Product Reviews section below.
Beach Lounge Chair Buyer's Tips
When shopping for a beach lounge chair, there are a few important aspects to keep in mind. These parameters include the weight of the chair, the weight capacity, complexity of setup, and the number of different configurations available.
Chair Weight
Most likely you'll be carrying your beach lounge chair from your car to the beach, so you'll want to make sure it isn't too heavy! A standard patio chaise lounge is probably not portable enough to double as a beach lounge chair, so you'll want to stick to a light weight, easily-moved option.
Chair Weight Capacity
Most of the lounge chairs on our list use some sort of Textiline fabric as their structural element, as opposed to, say, wooden slats or metal support brackets. The strength of the chair is essentially only as strong as the stitching on the fabric. For those who are tall and/or heavy, be sure to check the weight capacity, as you don't want to have the chair collapse on you at the beach!
Leg Support Design
As these chairs are designed to go on the beach, you want legs that don't simply sink into the sand when you sit on them. Most of the chairs on our list have tube setups that don't sink into the sand. Others have plates on the bottom of the chair legs to spread out the weight.
Shading
Some of the chairs on our list include umbrellas, though most don't. If you choose a chair that does not include any shading, you should pick up additional protection. Be sure you bring adequate beach shading with you to protect your skin, whether that shading is a beach tent or beach umbrella.
Ease of Setup
You don't want to spend 20 minutes putting your beach chaise lounge together. Stick to models that simply fold and unfold in order to use. Overly-complex mechanics should be avoided, and all of the items on our list are pretty simple to operate.
Flexibility and Multi-Functionality
Some of the lounge chairs on our list fold down completely flat, allowing users to lay down completely on the chair. Some even include holes for your face so that it's not resting directly on the fabric, which is an interesting design option. Others don't fold down completely. Consider how much flexibility you want in your chair.
Beach Lounger Reviews
Beach Lounge chairs are a way to take comfort with you into the wilds. With a good lounger you can enjoy sun, surf, the wind in the trees and even take in a sports game without enduring hard seats, the inevitable rock under your hip, or sand in places where sand should never be. But not all loungers are made equal which is why the list below was developed.
We'll start by looking at a comparison table to get the lay of the land, and then move into individual reviews of each product. We'll wrap up with our favorites at the end.
Preview
Budget Pick
Runner-Up
Top Choice!
Budget Pick
Preview
Preview
Runner-Up
Preview
Preview
Top Choice!
Preview
Last update on 2021-10-17 / Affiliate links / Images from Amazon Product Advertising API
---
1. Ostrich Chaise Lounge Chair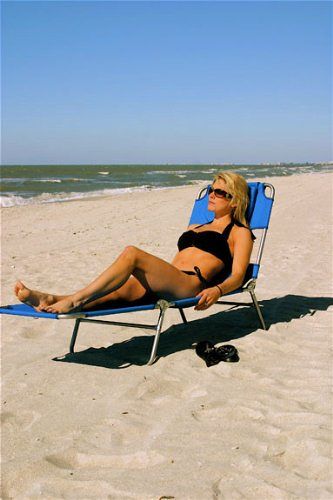 Key Points at a Glance
Face hole for face down relaxing

Arm holes so that you can reach down and manipulate a book or viewer

Poly fabric – solid

White powder coat steel frame
Dimensions
Rated for 250 pounds

Shipping weight 10.15 pounds

Item weight: 9.8 pounds

72 X 12 X 22 inches

Stands 12 inches off the ground when opened to flat position
The Details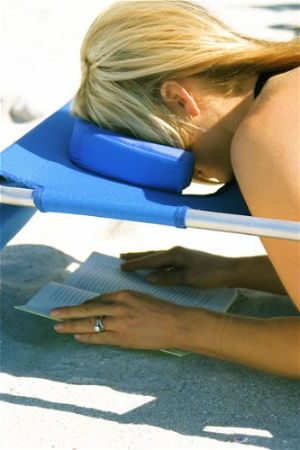 The Ostrich Lounge Chair functions primarily as a typical chaise-lounge chair with a long bed that opens to a flat or reclined position. However, this chair has a cool design for those laying down on their chest: a hole for your face, and a pillow to rest it on.
Common on massage chairs, this design is pretty cool and allows the user to get sun on their back without having to turn the neck to one side or the other, creating the probability of a stiff neck.
The user's arms can be placed through arm slots, making it easy to manipulate a book or small digital viewer.
The one problem with this is that glasses wearers might have trouble viewing media, thanks to the nature of lenses and their placement.
For some prescriptions, a simple sports strap to hold the glasses in place might suffice, or a viewer that has an adjustable print size.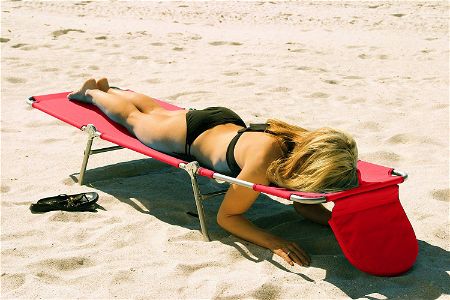 The lounge comes in lime green, blue, pink or red, and has a pretty stylish color palette.
It folds into a flat square and has an arm strap for carrying.
Some people have had problems with getting the lounge to fold or to unfold. One user noted that the problem was that many of them had not read the directions carefully during the initial use.
Users who were successful in getting their chair properly assembled love the face hole and the ease of portability.
Attention to the weight limit is essential as excess weight can put extra stress on folding joints.
A towel with face opening is available but is sold separately. Adding a towel can improve the longevity of the fabric and make clean-up easier, as well as improving the way the fabric feels on the bare skin.
Last update on 2021-10-16 / Affiliate links / Images from Amazon Product Advertising API
The Ostrich Chaise Lounge Beach Lounger has a thirty-day warranty that dates from the day of arrival. Users are advised to unpack, assemble and test the lounge immediately. Read the directions carefully before using for the first time. This product seems to be one that when it works, the users love it.
The Bottom Line
Ostrich's Chaise Lounge Beach Chair is a great choice for those on a budget. The quality of the chair is pretty solid, and the price point is ideal. Just be careful not to continuously get the steel frame wet, especially with salt water.
It's easily transported to and from the beach, and you'll look and feel great lounging in the Ostrich. And lastly, the face-hole is a cool innovation that many will find useful.
Ostrich Chaise Lounge, Green
Patented open/close face cavity and arm slots with head pillow
Portable and lightweight; includes carrying strap
Weight capacity 250 pounds.Material: Heavy duty polyester and white...
Last update on 2021-10-17 / Affiliate links / Images from Amazon Product Advertising API
---
2. Coleman Converta Cot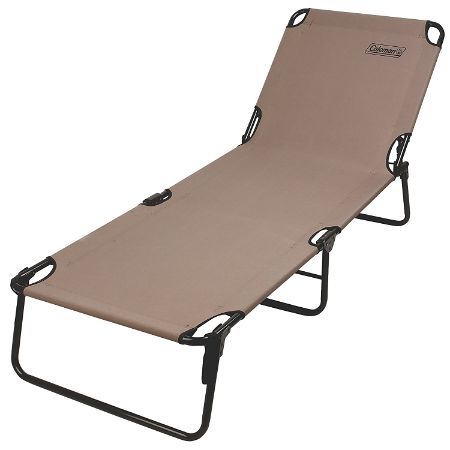 Key Points at a Glance
Convertible Folding Cot

Four back positions

Two different foot positions

Powder coat steel frame

Comfortable for people up to 6'6" in height

Will fit in most car trunks

California materials disclaimer
Dimensions
Supports up to 225 pounds

Dimensions: 27.8 X 8 X 4.9 inches when folded

Weighs 15.5 lbs

Limited Manufacturer

warranty

Ships anywhere in the US and to selected countries outside the US
The Details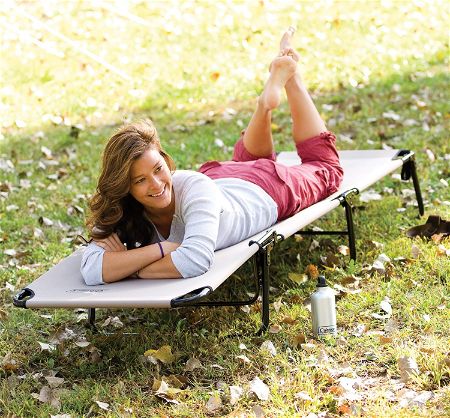 The Coleman Converta Cot is an excellent camp cot for children up through moderately sized adults. Pay close attention to the weight limit, as it is on the low side.
The multiple flexible positions make it a good choice for slumber parties, or for doubling as seating when camping or at beach parties.
It doesn't come with a face hole or an umbrella, and it doesn't easily change positions, but it can be a comfortable spare bed or place to spend time in the sun.
The cot comes in a utilitarian tan color and is ideal for camping trips. It comes completely assembled and needs only to be unfolded for use. A mattress pad could be added, as well as sleeping bag or blankets for grey weather camping.
The unit can easily be cleaned by taking it outside and spraying it down with a hose and a little spray-on mild detergent. It is a handy way to accommodate children who might still have trouble with nighttime dryness without pointedly placing extra mattress protection over a standard bed.
Folding to a modest size, it is easy to store three or four of these units in a closet to have on hand for impromptu sleep overs or unexpected guests.
They can also be thrown in the back of a station wagon in the event of a forced evacuation, creating options for comfort during uncertain weather conditions.
The Bottom Line
It isn't fancy. But if you want a camp cot in your tent instead of having to sleep on the ground or you need a spare bed for when family visits, it is just the ticket. And it works great at the beach, as well!
While not as durable as some Coleman models, it is still a good choice for beach use, for when unexpected guests visit, or for camping events. It is light, portable, and reasonably comfortable in most situations.
Sale
Coleman Converta Folding Cot
Convertible folding cot ideal for camping or relaxing outdoors
Seamlessly adjusts with 4 back positions and 2 foot positions
Durable powder coated steel frame can support up to 225 pounds
Can accommodate most people up to 6 feet 6 inches tall
Portable design fits into most car trunks when folded
Last update on 2021-10-18 / Affiliate links / Images from Amazon Product Advertising API
---
3. Sport-Brella Recliner Chair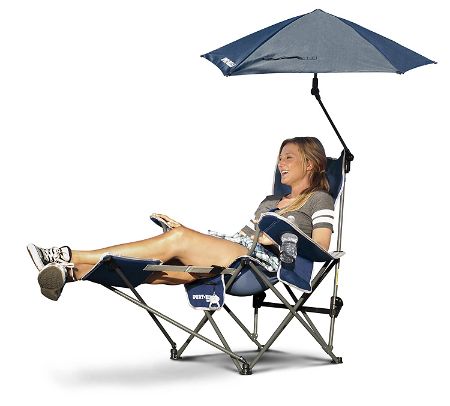 Key Points at a Glance
Accordion Fold Lounge Chair

Attached Umbrella

Built in drink pocket

Adjustable for comfort

Metal undercoating on umbrella for UPF 50 + Protection

Zippered pouch for belongings

Insulated drink pouch

Umbrella position can be changed
Dimensions
Weight capacity is 250 pounds

8 x 8 x 29 inches folded size

Proposition 65 warning

Weight 13.5 pounds

Does not ship internationally

Ships to all US areas
The Details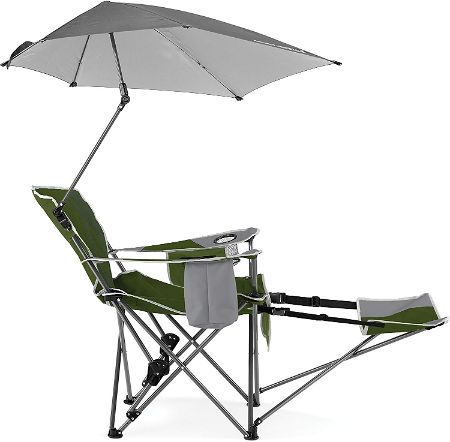 The Sport-Brella folding beach chair is a really interesting design that is quite compact and super flexible. It also includes an umbrella, which is a really nice extra. It's ideal for taking to the game, a great concert chair, and a wonderful beach chair. Though it's not the most beautiful chair on earth, the functionality here is pretty solid.
All that said, be sure you pay attention to the 250 lb weight capacity.
Sport-Brella's chair has lots of storage capacity and has lots of storage. You can kick back and watch the game without having to trek to the concession stand often. A special feature of this chair is the insulated drink compartment that attaches to the arm. With this feature, you can store up to four cold drinks, a true boon for staying hydrated at games or other areas where access to refreshments might be limited.
Except for moving the umbrella, no assembly is necessary.
It comes with the umbrella and all storage compartments are attached and part of the chair. That said, some buyers have found that the umbrella shakes pretty noticeably in even light wind, so it might not be useful in areas where wind is a constant.
Thanks to its collapsible design that allows it to compress into a long, narrow shape when folded, the Sport-Brella is quite portable. It's definitely easier to move around than those chairs that remain in a square shape when folded, and it comes with its own handy carrying bag.
The Bottom Line
Like many of the folding chairs on our list, the Sport-Brella has its fans, and detractors received mixed reviews.
Be sure to confirm that the weight limit is appropriate for your needs. For a small to medium sized person, this chair should work very well.
The added pouches and other accessories, as well as the detachable umbrella set this chair apart from other outdoor lounge chair selections.
Sport-Brella 3-Position Recliner Chair with Removable Umbrella and Footrest, FireBrick Red
ULTRA COMFORTABLE. The easy to adjust recliner hinges have 3 options,...
FULL COVERAGE UMBRELLA UPF 50+ PROTECTION. The Sport Brella will keep your...
REFRESHMENTS AT YOUR FINGERTIPS. Built in insulated pocket, cup holder, and...
LIGHTWEIGHT, STRONG, AND EASY TO STORE. Made of ultra strong, lightweight...
JUST THE RIGHT FIT. This ultra comfortable, lightweight, Sport Brella...
Last update on 2021-10-18 / Affiliate links / Images from Amazon Product Advertising API
---
4. Sunnydaze Outdoor Oversized Zero Gravity Lounge Chair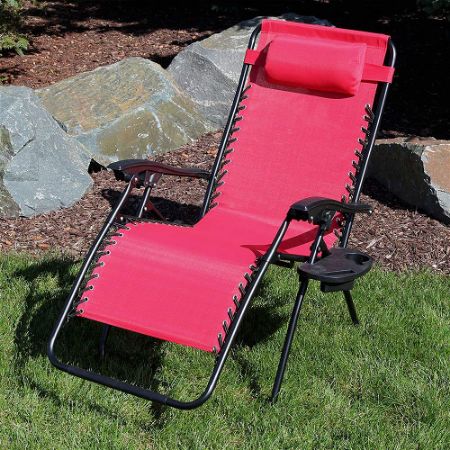 Key Points at a Glance
Zero gravity chair design

Molded resin tray to hold drink, phone and snack

Fully assembled

Open weave fabric, grommet edged
Dimensions
Weight capacity 250 pounds

Overall length 69 inches

Seat to top of back 30 inches

34-inch seat depth

Seat height 14.5

Seat width 22 inches

Weight:15 lbs

XL Lounger
The Details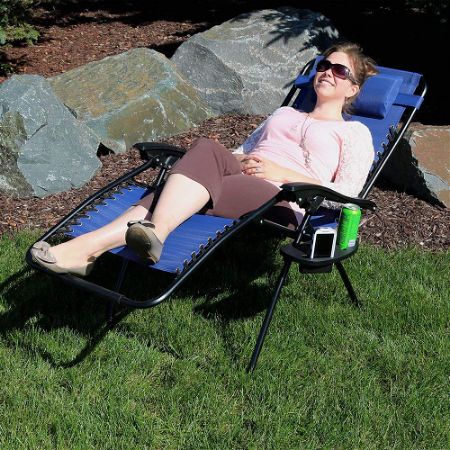 The Sunnydaze Zero Gravity Chair is a real beauty, and we love the Zero-G chair design in general. The folding format is quite nice, and these chairs are super comfortable. They allow you to tip back and relax without having to be completely flat.
They work by adjusting the center of gravity so that you tip back gently with minimal effort. There are locking mechanisms to keep your chair from accidentally tipping back up before you are ready, and you can lock the chair in any angle you like.
They are unassuming in appearance but can fit in just about anywhere. They are comfortable enough to be used on the patio, or even indoors in some cases. They'regreat for the beach, but many will find them difficult to transport.
They will fit in most vehicles and are easy to transport and set up. This particular model is a little larger than the average but is not as truly oversized as one might wish.
Extra large and tall people will need to be conscious of the weight limitations. Overloading this chair can cause the fabric to stretch and tear or the joints to be overstressed.
The Bottom Line
The zero-gravity lounge is easy to use, comfortable to rest in, and while not as easy to move as some chairs, can go just about anywhere. It isn't fancy but it is a comfortable place to sit or lounge.
The downside here is portability. It's not as easily-moved as some of the other chairs on our list, as it is bulky and rather awkward to move. However, once you've got it in place, there are no tools needed to set it up. Just unfold and you're good to go. With proper care and attention to weight limits, it should last through several years of use.
Sale
Last update on 2021-10-16 / Affiliate links / Images from Amazon Product Advertising API
---
5. Ostrich Deluxe 3N1 Chair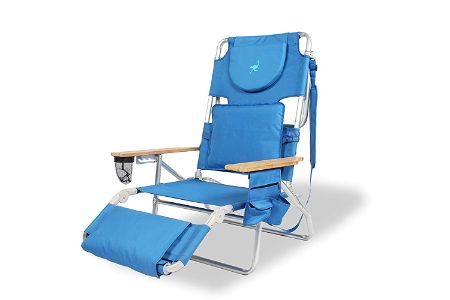 Key Points at a Glance
Open/close face hole

Open/close arm holes

Rust proof aluminum frame

Extra high back

Cup holder

Deluxe padded seat, foot rest and lumbar area
Dimensions
Sets twelve inches off ground
Weighs 9 pounds
Weight capacity 275 pounds
60.8 x 28.9 x 39.7 inches
The Details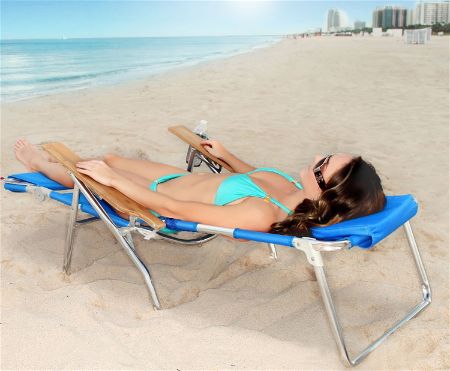 The Ostrich Deluxe 3n1 chair is a big step up from the Ostrich Lounge chair that was our budget choice. This one has a much more impressive and stylish look and is made from lightweight, rust-proof aluminum — a much better choice than powder-coated steel. The Deluxe 3n1 chair includes beautiful wooden armrests and a bunch of padding included.
It also has a helpful back strap to make transporting the chair much easier than many other models with a similar square format. The backstrap, coupled with the aluminum frame, makes this both the lightest chair on our list, and also the chair with the highest weight capacity.
Like the cheaper Ostrich Chaise Lounge, this model has the open/close hole that allows you to lie down on it, face down, and not get a crick in your neck from having to turn your face so that you can breathe. Of course, like the other Ostrich chair, this one runs into the same issue with users who wear glasses.
Additionally, a bunch of extra padding is included, making this chair overall much more comfortable to sit in.
There is also a removable foot-rest and three recline configuration options that allow users to dial in the perfect setting for their needs.
The Bottom Line
Overall the Ostrich Deluxe 3n1 chair is a really nice chair at a premium price. It is lightweight, strong, and quite configurable. It has a high weight capacity, and low weight, making it easy to transport. All of these aspects are quite appealing.
However, it is pretty expensive, and many users may find the less expensive chairs are nearly as good for a lot less money. It is the best beach lounge chair, though many may find better values with some of the other choices on our list.
Ostrich Deluxe Padded 3-in-1 Chair, Green
Patented open/close face cavity and arm slots with head pillow
5 adjustable chair positions and 3 adjustable footrest positions
Sits 12" off the ground for easy access and egress Extra high back with...
Lightweight (only 9 lbs.) but sturdy 275 lbs. weight capacity
Extra wide wooden armrest with padded carry strap, cup holder and zippered...
Last update on 2021-10-11 / Affiliate links / Images from Amazon Product Advertising API
---
Conclusion: Beach Lounger
All of these loungers on our list are good choices, though there are a few stand-outs.
The Ostrich Deluxe 3n1 chaise lounger is a novel solution to a long-time problem: what to do with your face so you can breathe while you are relaxing. The ability to read or watch video on a tablet is an added benefit. However, for dedicated readers who wear glasses, the face-down position might not work. It's lightweight and strong, but rather expensive.
The sports-brella lounger is an excellent alternative solution. The UV protective umbrella not only keeps sun rays off vulnerable heads but can also can shade a book or tablet. The way it folds up into a carrying bag makes the Sport-Brella the most portable of all the chairs on our list.
And finally, the Ostrich Chaise Lounge is an inexpensive version of the Deluxe 3n1 without the bells and whistles, but in many aspects, is a very similar chair. The price is great, and the face and armhole design is retained. It is an excellent choice for those who are budget-conscious.
Last update on 2021-10-17 / Affiliate links / Images from Amazon Product Advertising API
---