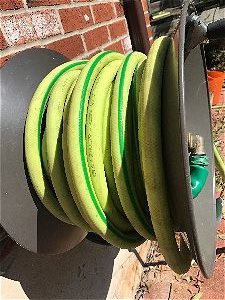 Legacy Products, the maker of Flexzilla, is one of the best garden hose manufacturers around. They make outstanding high-quality garden hose in a variety of formats and styles. Flexzilla is available in several different hose configurations with particular feature sets, and wading through the differences can be a bit confusing.
This article looks at several different types of Flexzilla Garden Hose, breaks down what you need to know to determine the one for you, reviews them, and suggests which ones may be best for your needs.
---
Flexzilla Garden Hose Comparison Table
To start us off, here is a comparison table showcasing the different sizes, options, and prices of Flexzilla water hoses on Amazon.
Item
Hose Type
Hose Dimension
Fitting
Price on Amazon
Flexzilla 25'
HFZG525YW
5/8" x 25'
Standard
Flexzilla 50'
HFZG550YW
5/8" x 50'

Standard
Flexzilla 75'
HFZG575YW
5/8" x 75'
Standard
Flexzilla 100'
HFZG5100YW
5/8" x 100'
Standard
Flexzilla 50'
SwivelGrip
HFZG550YWS
5/8" x 50'
Swivel Grip
Flexzilla 75'
SwivelGrip
HFZG575YWS
5/8" x 75'
Swivel Grip
Flexzilla 100'
SwivelGrip
HFZG5100YWS
5/8" x 100'
Swivel Grip
Flexzilla Pro 50'
HFZWP550
5/8" x 50'
Reusable
Flexzilla Pro 75'
HFZWP575
5/8" x 75'
Reusable
Flexzilla Pro 100'
HFZWP5100
5/8" x 100'
Reusable
Who Needs a Flexzilla Garden Hose?
The Flexzilla line of water hoses is great for contractors, landscapers, homeowners that do a lot of watering. Gardeners, backyard enthusiasts, and general users who are sick of poor quality garden hoses will love these hoses. You will pay more for a Flexzilla hose than for a typical lower end water hose from a big box store, but Flexzilla should last longer, and simply work better than most other garden hoses!
This video illustrates many of the major general features of Flexzilla garden hoses:
You don't necessarily need a housing for this garden hose, but if you would like to put it in a garden hose reel or self-winding hose reel, the Flexzilla will work wonderfully in either of these situations.
Best of all, Flexzilla offers excellent warranties on their garden hoses, with some covered under a lifetime warranty. It's hard to beat that!
Features Common to All Flexzilla Water Hose Types
Drinking water safe!
Usually doesn't kink when pressurized
Coils extremely easily
No "memory" rubber. Will easily uncoil, even if thoroughly wrapped up for a long time
All weather design(-40′ to 150'F)
Abrasion-resistant
Light color hose stays cooler than dark color hoses do
Excellent Warranties
Garden Hose Kinks
Garden hose kinks can be a constant headache for gardeners, landscapers, contractors, etc. Flexzilla hopes to cure that headache with its no-kink design.
Note, however, that the garden hose must be under pressure for the kinks to be avoided; the Flexzilla can kink if it is not under pressure, but usually, the task of removing the kink is quite easy, once the pressure is resumed.
No Memory Rubber
The rubber that makes up the structure of the Flexzilla water hose is soft and pliable, even when in direct sunlight for long periods of time, or in the winter cold. The hose does not get caught up in a coil pattern that makes it difficult to unwind, but rather the Flexzilla rubber allows for smooth winding and unwinding of the hose with no difficulty.
Garden Hose Length
Many buyers may be inclined to purchase excess lengths of garden hose "just in case", but this is unwise. This tendency is only exacerbated by the fact that often the Flexzilla water hose 100′ is within pennies of the cost of the 75′ hose.
It's much smarter to measure the run to find out the hose that will most closely fit your need, and purchase that length of hose. If you only need at most 75′ but purchase 100′, the hose will be heavier than you need, will take more time to pressurize and depressurize, and will be more likely to kink or cause issues coiling up.
Try to stick with what you need, and don't overshoot your garden hose purchase.
Flexzilla Garden Hose Reviews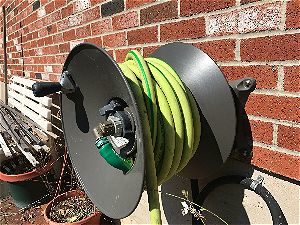 The Flexzilla hose brand name has become one of the most esteemed in the garden accessories industry.
Flexzilla has managed to create extremely high-quality hoses with some outstanding characteristics and sells them at an aggressive price point.
In this section, we look at the three major product lines and compare and contrast the differences between them.
Flexzilla Garden Hose Line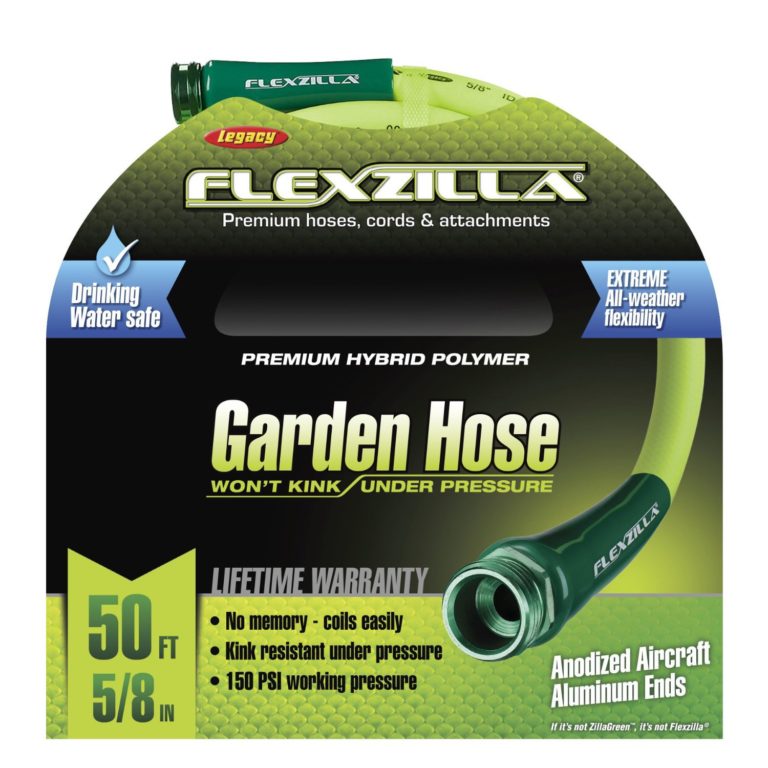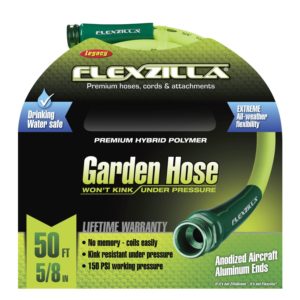 The Flexzilla Garden Hose line of hoses is the base level of Flexzilla's hoses, though these water hoses are far superior to most of the garden hoses available on the market today.
These hoses are available in several different length options: 25′, 50′, 75′, and 100′, as well as a few shorter lengths for couplings. They feature aircraft-quality anodized aluminum couplings, and won't rust or wear even in adverse conditions.
Pros
Lightweight (50′ weighs 9lbs, 75′ weighs 12lbs, and 100′ weighs 16lbs)
Available in several different sizes
150 PSI rated
No-Kink design
Good sealing O-ring gaskets
Lifetime Warranty
Cons
Relatively expensive
Can get moldy
Loses its bright green color over time
The Bottom Line
For most homeowners who aren't using their garden hose all day long, many days per year, the Flexzilla standard model will suit their needs perfectly well. The hose is largely kink free, seals nicely, and generally does not have the same tendency to want to coil up in the same way every time, like many garden hoses do.
The fittings on these hoses are made of aircraft grade aluminum, and won't rust over time. They are well made and will serve most homeowners very well.
Flexzilla Garden Hose, 5/8 in. x 50 ft., Lightweight, Drinking Water Safe - HFZG550YW-E
Extremely flexible – Our distinctive green hoses are built from a special...
Extremely durable – Purpose built to handle any industry and environment....
Won't kink under pressure – Our hoses are made from a special hybrid...
Leak free and drinking water safe - Each garden hose contains superior...
Lightweight - Lighter than traditional garden hoses making Flexzilla easier...
Last update on 2021-01-14 / Affiliate links / Images from Amazon Product Advertising API
Flexzilla SwivelGrip Water Hose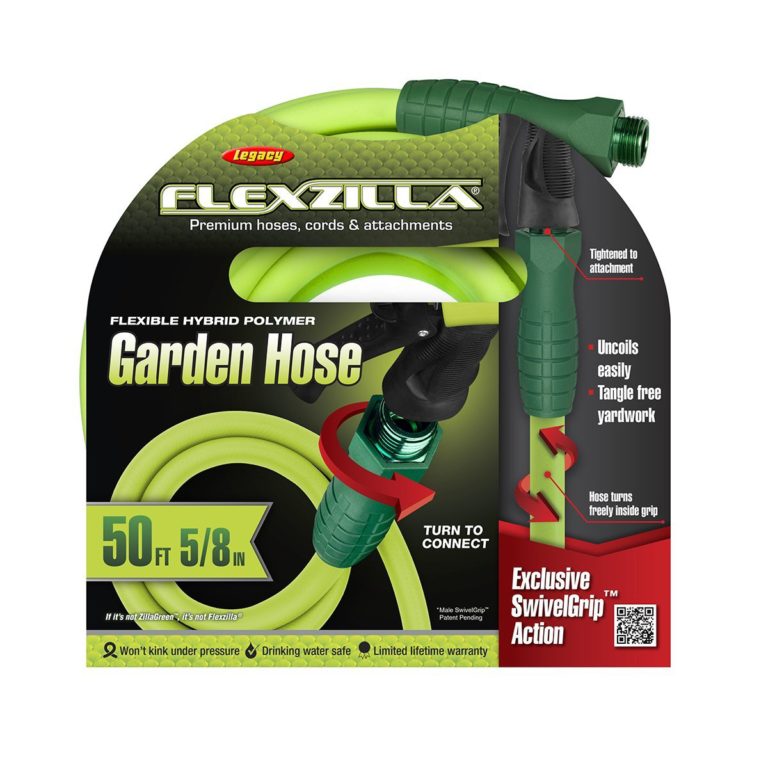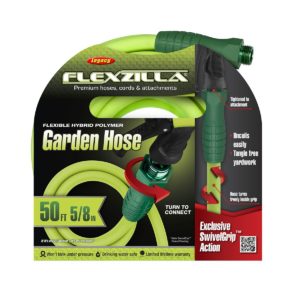 The SwivelGrip line of Flexzilla garden hoses is made with the same rubber hose material as the base model, but with an upgraded coupling system that swivels on either end. This allows attachments to swivel against the hose without tangling or otherwise catching the hose in repeated twisting patterns.
Pros
Lightweight (50′ weighs 9lbs, 75′ weighs 12lbs, and 100′ weighs 16lbs)
Available in several different sizes
SwivelGrip easier to grab, hold, and turn
Great for those with arthritis, carpal tunnel, or other hand grip maladies
150 PSI rated
No-Kink design
Good sealing O-ring gaskets make coupling easy
Lifetime Warranty
Cons
Expensive
UV-protection gradually fails on the exterior, and the color dulls
Can Get Moldy
Swivel grip ends less robust than standard ends
The Bottom Line
The FlexZilla SwivelGrip garden hose line is quite nice, and if you do a lot of attaching and detaching of sprayers, nozzles, etc., the SwivelGrip connectors are a huge plus. For most homeowners, the SwivelGrip would probably be the top of the line for their needs.
For contractors and landscapers that use a water hose all the time, the Flexilla SwivelGrip will save time and wear on the hands!
This is an excellent garden hose line at a premium price.
Last update on 2021-01-12 / Affiliate links / Images from Amazon Product Advertising API
Flexzilla Pro Garden Hose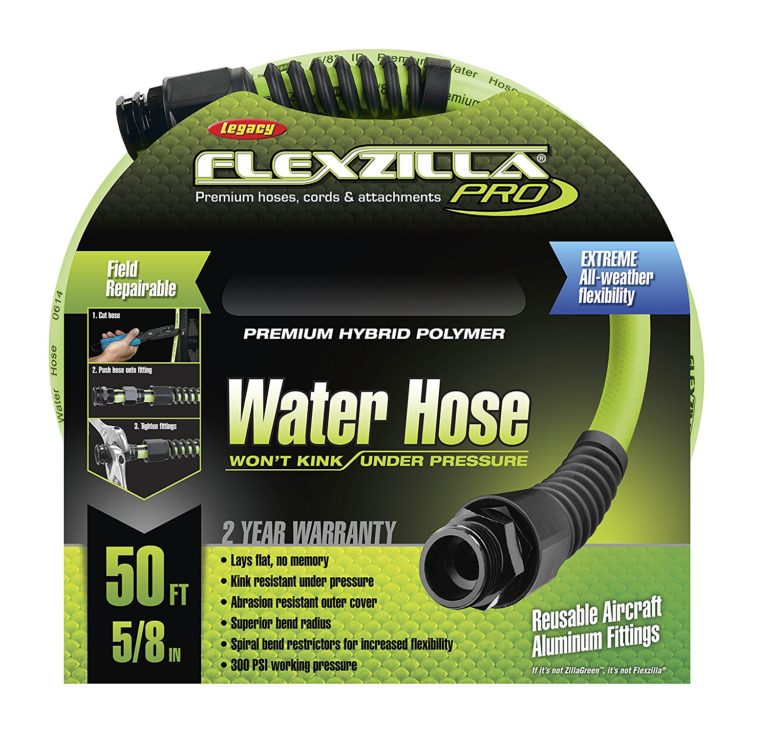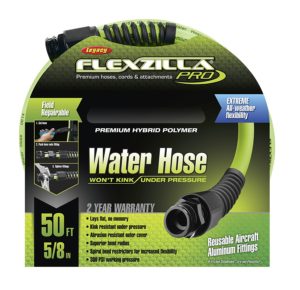 The final line of Flexzilla garden hose is the Flexzilla Pro line, which is targeted mainly at contractors and landscapers who use water hose constantly and may find that they frequently break or damage hoses over time.
The Pro line is unique in that the fixtures at each end are removable and replaceable! If, for example, you had a 100′ Flexzilla pro garden hose that ruptured 25′ in, you could cut the hose at that point, remove the fitting from the end, and turn that damaged 100′ hose into a functioning 75′ hose. In fact, if you purchase two more ends, you could turn the 25′ hose into a second hose as well!
For professionals who use garden hoses all the time, this system is a big time and money saver!
Pros
Lightweight (50′ weighs 9lbs, 75′ weighs 12lbs, and 100′ weighs 16lbs)
Available in several different sizes
Detachable couplings
165 PSI Rated
Great for landscapers and contractors who use and abuse garden hoses
No-Kink design
Spiral bend restrictors for added flexibility
Good sealing O-ring gaskets make coupling easy
2 Year Warranty
Cons
Expensive
Color can fade
Detachable ends not a particularly useful feature for most homeowners that don't want to be bothered
2 Year Warranty noticeably less than the Lifetime warranty on the other Flexzilla hoses
The Bottom Line
The Flexzilla Pro line is great for those that need to frequently tackle field repairs of garden hoses. The spiral bend restrictors help make bending the hose easy, which is a good feature. While lots of companies call their "really good" line of products their "Pro" line, in this case, Legacy Products really means professional when they refer to this line as their Pro line.
If you're not using this garden hose daily, for long periods, you probably should be aiming for the SwivelGrip or the Standard.
The main reason non-Professional landscapers should avoid the Pro is the change in the warranty from Lifetime to Two Years.
If you're not using the hose all day, every day, you probably don't need the (very cool) cut-and-repair flexibility, but the warranty probably is important to you!.
Choosing the standard or Swivel Grip hose results in a cheaper hose that is essentially just as good quality, and also includes a much better warranty than the Pro.
Sale
Last update on 2021-01-14 / Affiliate links / Images from Amazon Product Advertising API
Conclusion
The poorer warranty on the Pro line is a significant negative compared to the standard models, so if you don't need the Pro's features, go for the standard or SwivelGrip.
After digging into the three major Flexilla garden hose reviews, we hope you see that these hose reels are great products that are quite useful to many outdoor enthusiasts, whether they be homeowners, landscapers, contractors, or gardeners.
The Standard and SwivelGrip hose lines are fantastic for homeowners and gardeners who use their garden hoses a lot, and demand quality… but who don't use their hoses every day like a landscaper might.
The Pro line is ideal for landscapers who don't want to stop a job and head to the store to buy a new hose when one breaks. The ability to repair in the field is a big help for many professionals, and this system works well.
However, the poorer warranty on the Pro line is a significant negative compared to the standard models, so if you don't need the Pro's features, go for the standard or SwivelGrip.
Happy Watering!
---