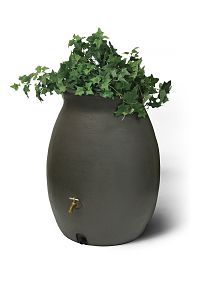 With the introduction of the Castilla Rain Barrel by Algreen, collecting rainwater has never been so easy, stylish, and environmentally friendly! Algreen's Castilla line of 50-gallon rain barrels is available in five different colors and is perfect for those looking to collect rainwater in an aesthetically-pleasing container that doubles as a planter. With a pleasing look, this barrel brings out a modern, classic feel that will blend with any style of patio, lawn and garden space.
It is a perfect choice for those who wish to save money on water with style and is particularly helpful for those who live in hot regions where water can be scarce.
This elegantly-designed barrel comes in various colors: Brownstone, Slate, Sandalwood, Dark Brown, and Terra Cotta. The Algreen Castilla line of rain barrels was our runner-up choice among the Best Rain Barrels on the market.
In this article, we will take a close look at the features and uses of this rain barrel, and review it.
[Read more…] about The Castilla Rain Barrel by Algreen. Information and Review