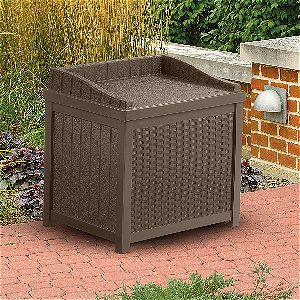 If you are looking for a small, attractive, convenient storage solution for your patio or garden, then you are in luck! The Suncast 22 Gallon Deck Box and storage seat is a well designed and stylish item that will fit perfectly into any garden, patio, or even inside your home. The Suncast SSW1200 Deck Box features a small footprint, an elegant style, and robust construction that will weather the elements and keep your items in good condition for years to come.
Suncast are a renowned market leader in the construction of custom wooden structures and other high quality products that are all built in the USA. The company has been trading for over 25 years and over that time they have perfected their products and designs. All of the materials used by Suncast are durable and their designs are unique. You will be amazed at some of the solutions that they have come up with.
Suncast 22 Gallon Deck Box SSW1200 Review
The Suncast storage seat is a stylishly contemporary storage solution which looks amazing either inside the home or within the garden. Its durable materials make it a very sturdy and usable item. Let's take a look at what this storage seat has to offer:
Features
The main features boasted by the Suncast storage seat are:
A 22 gallon storage capacity
Wicker Resin Panels
Designed and manufactured in the USA
Suitable for indoor and outdoor use
Provides an extra seating solution with the benefit of storage capabilities
5 Minute Assembly
5 Year Warranty
There are a number of things that make this storage seat stand out from others available on the market, below you will find a number of things that people who have already purchased this item say sold it for them.
---
Dimensions and Specs
Outside Dimensions: 22.5″ wide x 22.75″ high x 17.5″ deep
Inside Dimensions: 20″ wide x 15″ high x 15″ deep
22 Gallon Capacity
2.9 Cubic Foot Capacity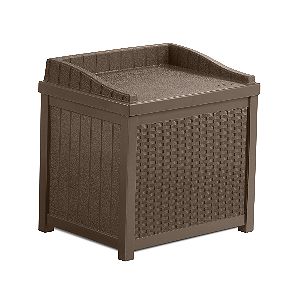 The size of the Suncast SSW1200 storage seat is perfect for use as a single person bench, and for easy small storage. It is not a large, bulky item that will take up lots of space or will look out of place. It will fit and look elegantly in any home or garden. The ease of cleaning and maintaining this storage seat is definitely a feature that many people have mentioned and openly spoken about within their review of this Suncast product.
---
The Details
Due to this storage seat being suitable for indoor and outdoor use, it is built with the most durable and high quality materials. The deck box is made of plastic wicker resin panels — they're not real wicker with a weave, but designed to look like wicker. While we wouldn't recommend wicker resin panel furniture pieces, we feel it is a completely appropriate material for use in a deck box/bench seat.
The SSW1200 is only available in the Mocha color scheme, which is a coffee-brown color. It's ok, not the best color out there, but not the worst either. The wicker resin panel design looks good in the mocha color.
Lid System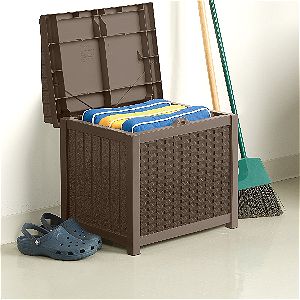 The storage system is pretty basic, with a lid that lifts up on two hinges. There is a hinge tab that will keep the lid from flopping all the way over, though there is no piston or hydraulic mechanism to lift the lid. Such systems are common on larger deck boxes, but this box is small enough that these designs are not needed.
Materials Quality
You have full peace of mind with a Suncast product as they construct their products with materials that are suitable for use in all weather. They are water and UV resistant and provide suitable protection from such elements for up to 5 years. Suncast does a great job with their product design, and are consistently found among our best deck boxes.
Price Considerations
The cost of purchasing the Suncast storage seat is rather reasonable compared to similar items from other companies, especially given the design and construction. The low cost price tag on this item will surprise you considering that it is constructed with top quality materials. The storage seat is definitely priced to sell and many of the thousands of reviews from past customers contain positivity regarding its low price tag.
Assembly
The Suncast storage seat can be easily assembled and you will not even require a single tool in order to do so! Previous customers of Suncast have stated that they have been able to put the storage seat together in less than 5 minutes without the use of tools.
If you want to take a look at how the SSW1200 is assembled, you can view the instruction manual here [pdf].
Cleaning and Maintenance
Due to the materials used to construct this item, cleaning and maintenance of it is very simple. You will find that you will simply be required to wipe the surface clean with any cloth and if it has been raining outside a simple wipe other with a dry towel or similar will have it dry and suitable for sitting on within seconds. Usually its best to wipe the deck box dry after washing it, so that water spots don't form on the surface.
---
The Bottom Line
If you are in need of storage and extra seating, whether this is inside or outside of the home, then the Suncast 22 gallon SSW1200 storage seat is certainlan item that you should consider. Its durability and contemporary appearance make this unit stand out against similar items within this market. Its reasonable price along with the chorus of thousands of positive reviews from other customers speaks volumes as to the quality, attractiveness, and utility of this small deck box storage bench.