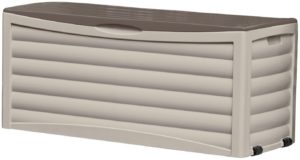 Whether you're storing firewood or sporting equipment, the Suncast DB10300 Patio Storage Box will suit your outdoor storage needs. With a massive 103 gallon storage capacity, all your outdoor or patio storage needs will be solved with the Suncast 103 Gallon Deck Box. This storage system is made from high-quality resin molded plastic, making it resistant to all the elements, sun, and rain. It's not going to win any style awards, but the look is functional and inoffensive. It has low profile wheels for easy maneuvering, and a handle to allow it to be placed where it is needed.
The Suncast DB10300 Deck Box has a sturdy design and could be used as a table for light items, but sitting on the unit isn't recommended. This is unfortunate, as some competitors function as seats, which certainly has added value.
In this review, we will look at the DB10300 Deck Box, examine its pros and cons, and determine who needs one.
Suncast DB10300 Patio Storage Box Review Product Review
The Suncast DB10300 Patio Storage Box looks acceptable in most outdoor settings, and will blend into the background either by the poolside or on an outdoor deck. The unit is made from durable plastic and has a very large storage capacity, which is its primary selling point.
The DB10300 requires very little effort in assembly and is very easy to clean. The design allows for dry storage, and is water resistant, and almost water proof, so it will suit most storage needs and will work nicely for things like firewood and cushions.
---
Basic Features
The Suncast Patio Storage Box has the following features:
Massive 103 gallon capacity
Simple yet, functional design with tan coloring
Wheels and molded handle for easy maneuverability
Very easy assembly process, tools are unnecessary
Great for keeping your items dry outdoors
Flat lid design, can be used as table for entertaining
Suncast offer a five year warranty for the DB10300 but some limitations apply.
https://www.suncast.com/index.php/returns
Dimensions and Specs
The Suncast DB10300 Patio Storage Box has the following specifications:
Dimensions – 24″ x 21″ x 56.2″
Manufacturer – Suncast
Weight – 23.2 pounds
ASIN number – B000TM8K74
Shipping – Only within the US
Country of origin – USA
Model number – DB10300
Color – Tan
---
The Details
Aesthetics
The Suncast DB10300 Patio Storage box has a reasonably modern style, with two-tone tan coloring and some slightly awkward curves, which don't help the look. The main material is plastic, and will withstand the elements, but isn't really sturdy enough to sit on. The unit has a clean but plain look, however the design is really quite solid, given its price point and size characteristics.
The unit has a flat lid on the top, so it can be used as a table for serving drinks and food when you are entertaining company. Just remember that adults should not sit on the box, as the box is long and doesn't have an internal load-supporting framework, so the top can break.
The wheels on one side are very low profile, and function well enough to allow the box to be easily moved from time to time, but are otherwise below the radar in terms of aesthetics.
Functionality
The Suncast Patio Storage box has a clean look, is durable, and has a huge 103 gallon capacity.
There is enough storage space to fit large cushions, lots of firewood, gardening supplies and some sporting equipment. Compared to similarly large competitors like the Lifetime 130 Gallon Deck Box, it hits an aggressive price point.
The Suncast DB10300 is very sturdy and has a flat lid so you can use it as a table but while you can sit on the box, it isn't recommended as it wasn't designed for this purpose.
There have been some buyer complaints regarding the load-bearing capacity of the unit. The wheels don't operate well under heavy load so you might consider that when deciding on what you will be storing in the unit and where it will be placed. The wheels are not designed to allow for frequent movement, but for occasional adjustments, they are helpful.
This storage box will keep your items dry but this also means that there aren't any drainage holes. This means that you should only store dry items in the storage box if you want to avoid mold growing.
Material and Build Quality
The DB10300 is made from resin plastic and is not designed for sitting, though it could be used as a table and place to put drinks, snacks, games, etc. upon. The construction simply won't support much weight, so don't go overboard. The lid will shut properly to prevent animals breaking in. The unit is also resistant against the elements so it will keep your items dry.
The Suncast DB10300 Patio storage box is made from quality plastic so it will last for years without significant fading or discoloration, and is weather resistant.
As long as buyers understand that the deck box should not be used as a bench, and that the wheels are not designed for frequent use, it is an excellent choice in its price point.
When it comes to after-sales support, Suncast customer service are very helpful and respond to queries quickly. The fact that they offer a 5 year warranty on this deck box is a great advantage, and gives confidence in the quality of their products.
Assembly
The Suncast DB10300 is very simple to assemble and according to most buyers, only takes about 5 minutes to put together. Suncast customer service are also very responsive and helpful so if you have any issues, you can just make an inquiry with them. The pieces essentially snap together, and no generally no tools are required in order to get the deck box assembled.
Cleaning and Maintenance
The box is pretty easy to clean: simply open the lid and clean with a soft brush and a hose. You can leave the open box in the sun to dry out.
Just make sure that the box has dried out completely before you use it after cleaning as there isn't any drainage within the box itself. This is an advantage and disadvantage: it means no insect infiltration, no water infiltration, and no rodent infiltration. But it also means no way to dry still-damp pool floats, towels, cushions, etc., so mold growth may be a problem. Be sure to place only dry items inside the deck box.
Accessories
There are no major accessories needed to use the Suncast 103 Gallon Deck Box. If you want additional water protection, you could consider a YardStash deck box cover. These covers will provide extra protection, but they are certainly not necessary, and certainly don't improve the looks of the deck box!
The Bottom Line
The Suncast DB10300 would be perfect for anyone wanting that extra storage space that would complement their outdoor setting without standing out too much.
The unit has a clean and modern design, is simple and quick to assemble and is also very easy to clean. The box isn't very stylish but has a simple yet functional design so it won't stand out. The flat lid offers more utility as it can also be used as a serving table, but sadly there are no metal rods to support sitting.
If you don't need seating, then the DB10300 is a great large deck box at an agressive price; if seating is needed, you may want to look to spend a bit more and pick up the
Lifetime 130 Gallon Deck Box
, or the
Suncast 134 Gallon Deck Box
, which are larger and more multi-function, but also are a higher price.