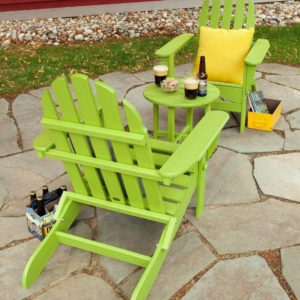 Getting sick of your patio and yard environment? Want a refresh for the new season? Consider taking your patio in an environmentally harmonious direction with these eco-friendly small patio ideas.
Patios, in general, are typically un-natural spaces — they are made with concrete or stone pavers, and do not provide much shelter to wildlife, and exacerbate groundwater issues by removing pervious area and producing more gray water.
In this article, we will look at five simple ideas to take your patio in a green direction and improve your sustainability without breaking the bank!
Switch to Solar LED Lighting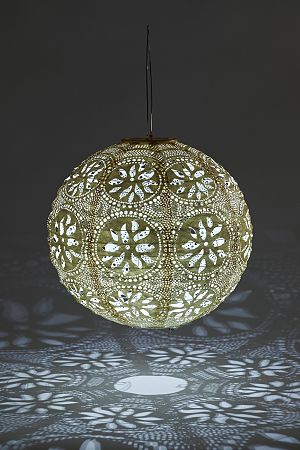 If your outdoor lighting is getting a bit old, consider switching over to solar LED lighting. Solar LED lighting has several advantages over traditional wired lighting. The most significant advantage is that there's no need for an electrician to come wire everything up for you!
Solar LED lighting is generally set-and-forget. For most systems, the lights automatically come on when night falls, and run through the night until dawn, when they begin to recharge.
Solar LED lighting comes in a wide variety of designs, though typically they are broken down into a few categories, such as solar lanterns, solar path lights, and solar string lights.
These lights usually are for ambient lighting, or perhaps for path lighting, and are not powerful enough for task lighting or reading lighting.
If you want outdoor task lighting, consider an umbrella light!
---
Start Composting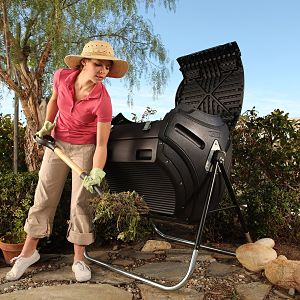 One of the great steps you can take toward creating a more sustainable, eco-friendly outdoor area is to start composting! Composting helps the environment from two different directions at once: it allows homes to get rid of their kitchen and lawn scraps without sending them to landfills or down the sewer drains, and it generates high-quality soil for garden plants to grow, so you won't need to purchase enriched soil trucked in from the other side of the world.
When it comes to small, urban gardens and yard spaces, we are very much in favor of tumbling composters.
They are a bit more expensive than standard ground-based compost bins, but they tend to take up less room, are less prone to rodent-invasion, and produce compost more rapidly than other systems.
Be sure to check out our guide to using a tumbling composter for more information.
---
Grow Native Plants
By filling your backyard, patio, and garden with native plants, you'll be installing plant life that is well suited to your local climate, and also naturally compatible with local wildlife.
These plants will typically require less water than non-native varieties, at least when established, and will provide safe harbor to native species of birds and insects, which is certainly an advantage!
The Ladybird Johnson Institute has a fantastic guide to getting started working with native plant life. Be sure to check it out if you don't know where to start.
You can also visit your local nursery to get things rolling as well.
---
Collect Rain Water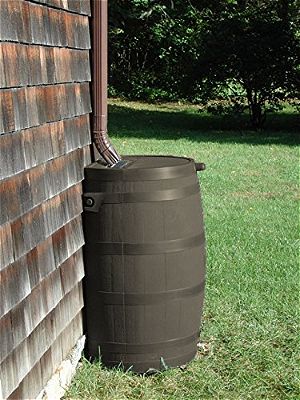 Along with growing native species of plants, you can really lower your water usage outside by collecting rainwater in rain barrels. While they used to be really clunky looking, several new designs have come along over the past few years that blend in beautifully with the landscape, and actually add to your outdoor decor.
To use a rain barrel, you typically need to purchase (or make) a rain barrel and connect your downspout to the rain barrel with a rain barrel diverter.
Water will now travel down the downspout and into the rain barrel.
Some rain barrels can be chained together, to allow one downspout to fill multiple barrels, while others cannot.
Be sure you are aware of what happens when your barrel fills, as some diverters cause water to simply spill out on the ground if the barrel is full, which can lead to flooded basements if you're not careful!
---
Upgrade Your Patio Furniture with Sustainable Materials
If you feel the need to upgrade your patio furniture, aim for long lasting furniture made with sustainable materials.
One of our favorite sustainable materials is composite resin wood. CPVC goes under many names, but it is commonly known as Trex in outdoor decking environments. This material is made from recycled plastic and (commonly) recycled wood pulp, blended together and mixed with colors. The resulting material is incredibly hardy, largely maintenance free, and an ideal outdoor furniture material.
No new trees are cut down, plastic is removed from the landfills, and there's no need for harsh chemicals to stain or paint these furniture pieces.
There are many outdoor furniture sets now made with CPVC resin plastic. Trex itself has a line of modern outdoor furniture known as the Surf City line, shown here, but there are a number of designers making great outdoor furniture with sustainable CPVC materials.
Adirondack chairs and porch swings are also a common furniture piece made with these materials and are a great choice.
---
Conclusion – Eco-Friendly Small Patio Updates
We hope you now have some new concepts for ways to green your outdoor environment. Depending on the local environment where you live, some features will be more important than others, but in general, all of these items will help bring your patio and garden space closer to sustainability.
Have some ideas that we missed? Contact us and let us know!