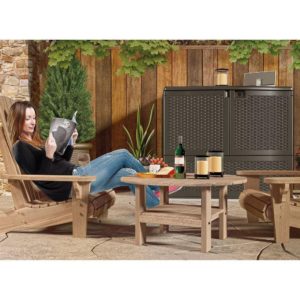 The Suncast VDB19500J Backyard Oasis Deck Box [Amazon Link] is perhaps the most elegant looking deck box available on the market today. With lines and finish resembling indoor wicker furniture, as opposed to the classic squat, cooler-like design common in resin deck boxes made by many manufacturers, the aesthetics of this storage system are outstanding.
This unit is known as the Backyard Oasis storage and entertaining station, and it is appropriately named. Of course, no one can sit on the Suncast Vertical Deck Box (except maybe a bird!), but this deck box isn't designed to be used for seating.
Rather, it is a backdrop to a pleasant garden area, with 195 gallons of storage capacity and well thought out functionality.
The VDB19500J is an outstanding deck box with many great use cases, and in this article, we will review the product, and examine how it might best be used in an outdoor area.
[Read more…] about Suncast Vertical Deck Box VDB19500J Review