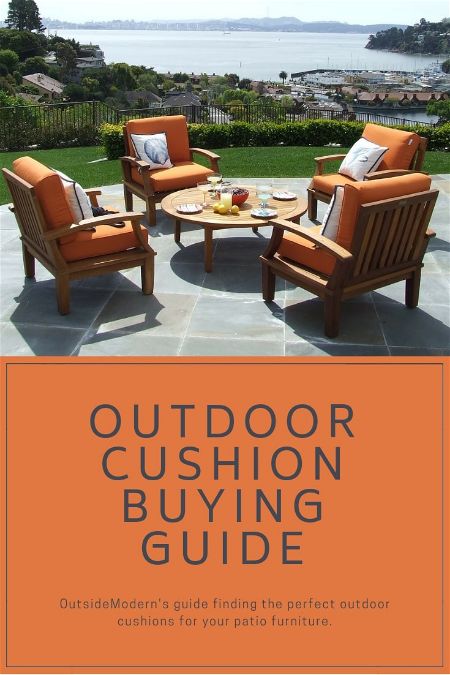 When it comes to buying items for outdoor furniture it can be a bit challenging. These items come in plenty of styles which can make it difficult to choose one that matches your furniture and landscape. Outdoor cushions for chairs and benches are also challenging as they come in different materials and styles as well. If you're looking to find the best outdoor cushions for your patio furniture, keep reading. This Outdoor Cushion Buying Guide will help you with finding the ideal outdoor cushions for your furniture.
Outdoor Cushion Buying Guide
When searching for an outdoor cushion there are a few things one needs to look for. Below are some key things to consider before buying one of these items.
Outdoor Cushion Sizing
Perhaps the most important factor in an outdoor cushion is whether or not it will properly fit your patio furniture! Getting the right size is crucial, so here is where we need to start. Depending on the type of furniture you're looking to add a cushion for, there may be standard sizes. For example, Adirondack Chairs often are set up in common size formats, so you can sometimes find off-the-shelf Adirondack Chair Cushions.
If you need something custom, it's pretty easy to order custom fabrics right off of Amazon. Note: the link is for a specific type of chair, but this company will do custom orders for a variety of furniture sizes and shapes.
Last update on 2021-06-13 / Affiliate links / Images from Amazon Product Advertising API
Measuring for an Outdoor Cushion
Before buying an outdoor cushion, measurements need to be taken to ensure it fits correctly. To start out, take a tape measure and measure the width of the outdoor furniture the cushion will be placed on. After this, measure the depth (the front edge of the seat to the back), the back of the chair (base of the seat to the top of the back of the seat), and the height of the chair.
This will help one to find the right cushion for the furniture.
How Weatherproof the Cushion Is
One of the most important things to consider when shopping for one of these items is how weatherproof it is. Because these will be left outside, they need to be able to withstand weather elements, like rain and wind. If they don't, they will easily mold and be unable to be used. Due to this, it's vital to check to make sure it is made of a weatherproof and durable material like cotton canvas or vinyl.
Additionally, it's always wise, no matter the material, to store your cushions in a deck box, shed, or garage, so that your cushions don't get wet. Even if the water won't damage them, no one wants to sit on a soggy cushion still drying out from the rain 4 hours ago!
The Design/Color
Outdoor cushions come in a variety of designs and colors. Because of this, it's important to consider the design scheme of the patio furniture and outdoor landscape where these cushions are to be used. This way, the cushion can perfectly match the surrounding area and complement it.
Often choosing bright, adventurous colors for cushions or throw pillows can be an effective way of bringing color to your outdoor furniture, which often tends to feature a lot of browns/blacks/grays.
How Comfortable It Is
Believe it or not, sometimes outdoor cushions aren't the most comfortable to sit on! Generally, the thicker the cushion, the more comfortable it will be for long-term use.
If it's Stain Resistant
Outdoor cushions are placed on chairs and benches, places where many often enjoy sitting to eat or drink. Sometimes things can spill on them which can result in major stains. To help prevent the outdoor cushion from being ruined with unsightly marks, it's a good idea to check to see if the material is stain resistant. This will help to make it easier to clean off and ensure it doesn't leave behind any traces of the problem.
Pre-treating your outdoor cushion with a Scotch Guard material can help its liquid repelling and stain resistance, depending on the type of material chosen.
Last update on 2021-06-17 / Affiliate links / Images from Amazon Product Advertising API
UV Resistance/Color Fastness
The sun's rays will gradually fade even the most robust fabrics like Sunbrella if exposed long enough. It just happens, no matter what! However, some fabrics are more UV resistant than others. Depending on the fabric, you can extend the useful life by treating the fabric with a UV protecting spray like Scotch Guard Water and Sun Shield.
Last update on 2021-06-14 / Affiliate links / Images from Amazon Product Advertising API
Check for Ties
While not a crucial thing to look for, ties on the back of the cushions can help to keep these items secure on the piece of furniture they are to be placed on. Ties will keep the cushions fastened on the outdoor furniture and can help to prevent them from sliding around or falling on the ground.
If your chosen fabric doesn't have ties, you may be able to use Velcro straps, to help hold everything in place.
Last update on 2021-06-13 / Affiliate links / Images from Amazon Product Advertising API
---
Types of Fabric For Replacement Cushions
As mentioned above, there are many different types of weatherproof fabric one can choose for their outdoor cushion. This is an important step, so it's vital to choose the best fabric for it. This section is a short run-through that covers the basics of outdoor fabrics, but if you're looking for more information, be sure to check out our guide to outdoor fabrics.
Cotton Canvas
Cotton canvas is ideal for outdoor cushions because it's durable and waterproof. For outdoor purposes, it's commonly covered in a solid PVC coating to help keep it strong and to prevent mildew from forming. This type usually comes in solid color choices like white, brown, and blue.
Vinyl/Polyester
Vinyl is one of the most popular choices to use for outdoor fabric because it's affordable and extremely durable. Vinyl comes in various styles and is known for being tough against weather elements. Its colors don't fade.
Olefin Fiber
Olefin fiber feature acrylic components which help to prevent the fabric from fading and staining. Because it is so strong, olefin fiber is not only used for outdoor cushions, but for carpeting and wallpaper as well.
Regardless of the type of fabric one decides to use though, it's always important to take care of the cushion. To help it last, remove the cushion out of constant direct sunlight to prevent any possible fading. Also, by removing the cushions when not using them, it can help to keep them from wearing out easily.
Acrylic/Sunbrella
Acrylic fabrics are generally the best choice for outdoor fabrics, with the solution dyed acrylic known as Sunbrella being the most popular brand of outdoor fabric. Solution-dyed acrylic fabrics like Sunbrella are the most stain resistant, fade resistant outdoor fabrics around.
Unfortunately, they are pricey, but in our opinion, they're almost always worth the extra cost!
---
Types of Filling for Replacement Cushions
The next step is to check the type of filling in the cushion. These come in many different types and are what will determine whether the cushion is comfortable to sit on or not.
Compressed Polyester
Compressed polyester foam is durable and will retain its shape after having been sat on. It's also very affordable.
Polyurethane
Polyurethane is a strong material that is often treated to help prevent it from molding and developing mildew. This type is one of the most common types used in outdoor cushions because it can withstand a lot of heavy use.
Open Cell Foam
Open cell foam is ideal to use in landscapes that might be exposed to a lot of humidity and moisture. This is because it is made with openings in it which help the foam to breathe. The openings also help the foam to dry quickly when wet.
---
Is There a Way to Safely Clean an Outdoor Cushion?
Yes, there is a safe way to help clean an outdoor cushion, though much depends on the brand and type of fabric. Always check the cleaning instructions for your specific fabric, but as a general guide:
Remove any outer protective covering from the cushion.
Mix warm water and a small amount of soap can be mixed together
Rub solution onto the cushion with a soft brush. Be sure to reach all areas of the cushion and pay close attention to spots that might be covered in mildew.
Rinse the cushion off thoroughly with water until the soap is completely removed from it.
Let the cushion sit in the sun for a while to dry.
It is almost always unwise to dry your cushion fabric in the dryer, as the heat can shrink the fabric to the point where it will no longer fit around the cushion. It's always best to line dry these items.
Can Cushions Be Left Outdoors During the Winter?
You can leave the cushions on patio furniture that is covered with a high-quality patio furniture cover, but honestly, it's best to take them inside or store in a deck box or shed for safety.
While outdoor cushions can be left outside during this season it's often recommended that they are brought indoors. This is due to snow and cold temperatures possibly damaging the cushions as well as being destroyed by creatures trying to find a warm place to snuggle up in.
---
Conclusion: Buying Outdoor Replacement Cushions
Shopping for outdoor cushions doesn't have to be daunting. With the information above, one can be sure that they'll be able to buy the best type for their outdoor furniture. By following each step, it will help to ensure that the ideal outdoor cushion is used for one's outdoor furniture. So, be sure to keep this guide in mind when shopping for one of these items.
One of the best places to start your shopping is on Amazon, where you can purchase custom replacement cushions made to order in a variety of shapes and sizes, with a large number of Sunbrella fabrics to choose from.
Last update on 2021-06-17 / Affiliate links / Images from Amazon Product Advertising API
---