Shopping for new patio furniture is exciting, especially given the huge amount of recent innovation in materials in the outdoor furniture market. No longer do buyers need to stick to the old metal table with tempered glass top and a patio umbrella through the center design. Now the open sky is the limit! But which are the best patio furniture brands?
We have put together this article to examine several of the top outdoor furniture manufacturers and suppliers around, and look at a few of their collections.
With a wide variety of price points, designs, and styles, and material choices, there is certain to be something for everyone here!
Best Patio Furniture Brands
There are many high quality outdoor furniture brands, but it's easy to pick up the wrong set, and be stuck with an inferior brand, line, or design. Especially when shopping on the internet, where it's hard to get a sense for furniture without actually sitting in it!
For this reason, we have put together this list of several of our favorite outdoor furniture manufacturers and designers.
Going back several years, manufacturers were challenged to find outdoor furniture that could really withstand the challenges of being left outside, and gradually more and more have embraced new materials, designs, and concepts, resulting in some great furniture collections.
There's lots of great stuff here, and we hope you find the perfect collection for your patio space!
Modway – Gorgeous, Stylish Outdoor Living Room Sets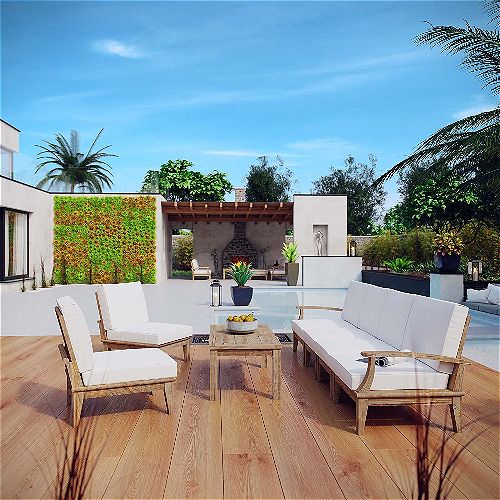 Modway is a large modern furniture company that doesn't just focus on outdoor furniture, but they have several outstanding outdoor furniture options, such as outdoor daybeds, swing chairs, bar stools, and the like.
Of particular interest to us is their Marina teak outdoor living collection, which is just beautiful, and is quite well made. It has stylish modern lines, a ton of configuration opens, and is made of high quality Indonesian teak!
The Marina collection is extremely configurable, so you can get exactly the pieces you want, and the overall quality and aesthetic of the collection is delightful.
---
Harmonia Living – High End, Luscious Outdoor Furniture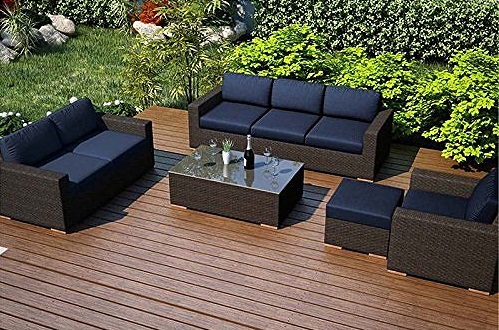 Harmonia Living is an outstanding (mostly) high-end furniture brand that supplies both indoor and outdoor furniture. They are San Diego based, and have been around since 2007, making some very cool furniture designs and rapidly expanding their offerings.
Harmonia makes a wide range of patio products, from Acapulco Chairs to patio sectional sets to outdoor living room sets. They also have several different lines of furniture with different styles and material choices, with some modern, some traditional, and some transitional designs.
Typically they like to work with steel, HDPE Wicker, and Sunbrella fabrics. All great choices!
---
Trex Outdoor Furniture – All Weather Patio Furniture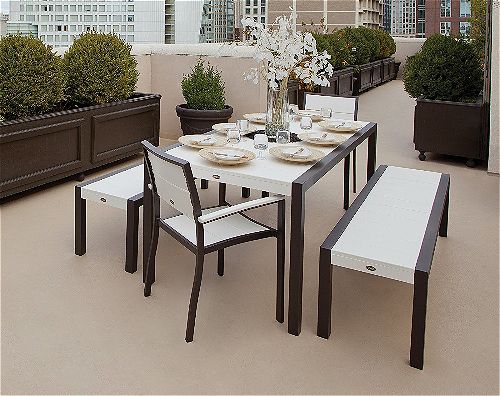 Trex is a huge company, likely best known for their composite decking. Composite wood, also known as polywood or poly resin, is a material made of recycled plastic and (typically) wood pulp, which is blended and colored throughout.
CPVC has a look and feel that is extremely similar to wood, but is as durable as it gets! Unlike wood, the color is blended throughout the material, and even if it gets scratched, the color remains. It can handle virtually any reasonable temperature and weather condition.
Trex is primarily a bulk composite decking supplier, however, they have an outdoor furniture collection that is surprisingly nice!
Trex Outdoor Furniture has several different lines available, with the Surf City line [Amazon Link] [Wayfair Link] being the most compelling, with the most interesting modern designs.
Trex also have some great all-weather Adirondack chairs, so be sure to check those out if you're looking for some classic outdoor chairs.
---
Ohana Wicker Furniture – Outstanding Value Wicker and Teak Patio Furniture

"Ohana" is the Hawaiian word for "family", and when you are relaxing with your loved ones on an Ohana Furniture set, you'll be happy you chose the Ohana brand!
An Ohana PE Wicker Furniture Set was our top choice among luxury conversation sets. Most of their listings are for patio living and dining sets made of PE Resin Wicker, wrapped around a powder-coated steel frame. Their patio sets vary markedly in price, depending on if Sunbrella fabric is used or not.
Ohana furniture arrives pre-assembled, which is definitely a nice feature, so you can put away the power drill and Allen wrenches!
They also have a lovely Teak outdoor furniture collection that is absolutely worth checking out!
---
Bayview Patio – Beautiful Teak Patio Dining Furniture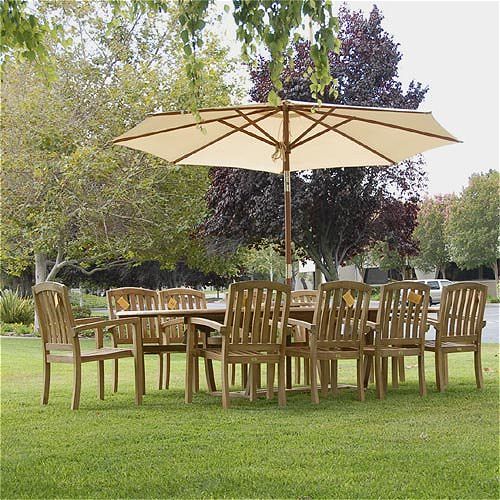 Bayview Patio makes a range of outdoor furniture pieces, such as benches and stools, primarily working in teak, one of our favorite outdoor furniture materials.
We are smitten with Bayview's Teak Dining Sets in particular, as they are outstanding. Bayview won our top choice among Teak patio dining sets with its lovely 9 piece Teak dining set.
Be sure to seal your teak patio furniture once you've got it set up!
---
Modenzi Outdoor Furniture – Inexpensive, High Quality PE Wicker Patio Sets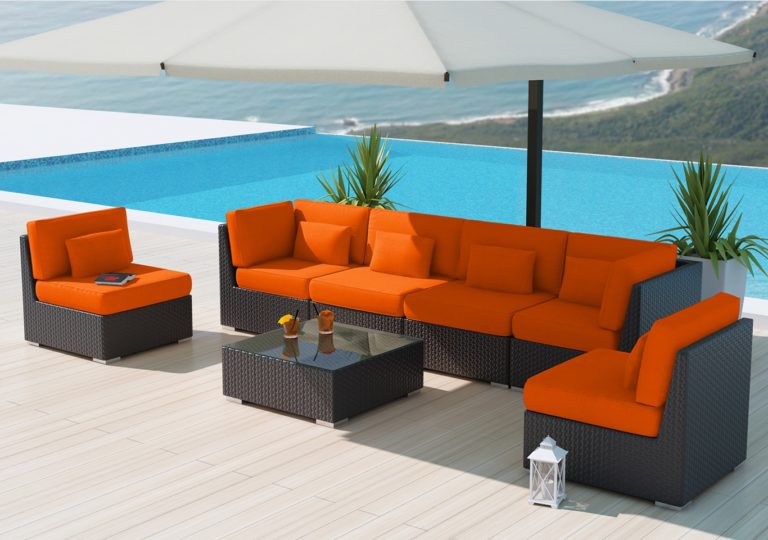 Modenzi is a relative newcomer to the patio furniture scene, with low prices and high quality offerings. Their selection is pretty basic, with heavily modern design, simple lines, and fun colors.
These sets are made in China, and are flat packed — you'll have to assemble them yourself. Modenzi was our top pick among patio sets under $1000.
Most Modenzi furniture is made of PE Resin Wicker, with lightweight and easily-configurable aluminum frames.
Modenzi has a pretty wide selection of sectional sofa sets, ottomans, chaise lounges, available in various wicker colors and fabric options.
---
Laurel Foundry Modern Farmhouse – Stunning Modern Farmhouse Designs
Laurel Foundry has several lines of indoor and outdoor furniture, though we are primarily interested in their Modern Farmhouse collection, which is swoon-worthy. The Modern Farmhouse collection has a wide variety of outdoor pieces such as benches and tables, patio sectional sets, poly-wood swings, and more!
With simple, clean styling and top notch materials, the Modern Farmhouse collection has super current design, comfortable yet classic aesthetics, outstanding materials, and great pricing.
---
Fermob – Parisian Classic Outdoor Furniture, High End and Perfect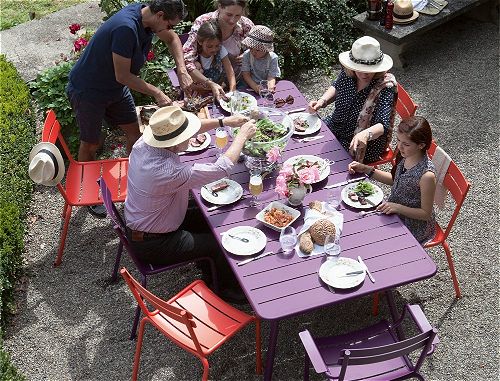 Get a taste of Paris with Fermob's Luxembourg collection, found at the stunning Jardin du Luxembourg. These pieces are classics, and were designed in 1923 in Paris and still in production in the Paris Parks Department.
Fermob refreshed these designs in 2008, and they are also for sale to consumers. With an exuberant joie de vivre, the Luxemborg collection and the Bistro collection are both great choices for those who want simple, classic, super fun outdoor furniture with an outstanding history and timeless appeal.
---
Tropitone – High End Resort Patio Furniture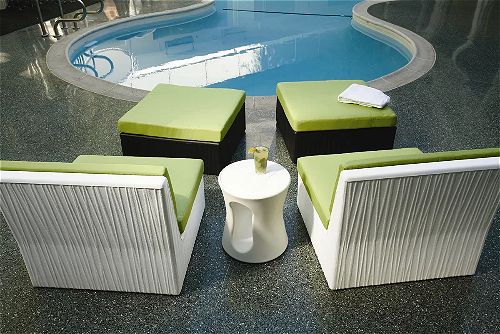 Tropitone is one of the classic outdoor furniture brands, and have been around since 1954. They are now a sub-collection of Brown Jordan furniture. Originally focused around resort furniture, Tropitone expanded its offerings into residential furniture over the years.
Tropitone focuses on high end chaise lounges, patio living sets, and conversation sets. Some of their designs are quite modern, like the Mobilis set above, but many are transitional or traditional in design, and Tropitone has much to offer anyone looking for luxury outdoor furniture!
---
U-Max Outdoor Furniture – Surprisingly Inexpensive Patio Sets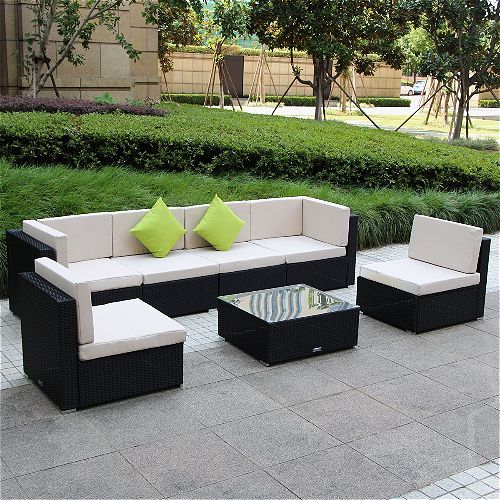 If you don't want to spend much on your outdoor furniture, U-Max is a great choice! The U-Max outdoor sets are PE-wicker sectional sets that are highly configurable. Like the Modenzi furniture mentioned above, these patio furniture sets require assembly, so be prepared. Fortunately, they do arrive in multiple boxes.
The cushions on these sets are not of the highest quality, and will likely fade and wear over time. Store them in a deck box or other shelter as much as possible when not in use, and plan on replacing the cushions in a few years.
However, the bottom line on these sets is that they are quite inexpensive, and once assembled, are great pieces.
---