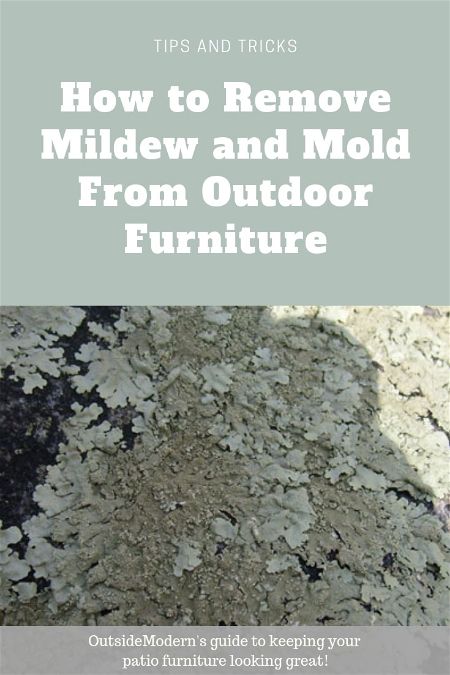 Mildew is a constant threat to outdoor furniture and decor. It is a thin, usually black (but sometimes white), growth produced by mold. If left to fester, mildew growth may turn into full-blown mold growth, which is more of a hassle to remove than mildew. Mildew can present itself on almost any surface, though some are more resistant to mildew growth than others. This article is a guide on how to remove mildew from outdoor furniture. We look at many of the most common materials used in outdoor furniture, and discuss solutions to get the mildew off, and to get your outdoor furniture ready for the season!
---
How To Remove Mildew from Outdoor Furniture
In this section, we will go over the various common outdoor materials, and how to remove mildew and mold spots from them.
---
Mildew on Wood Furniture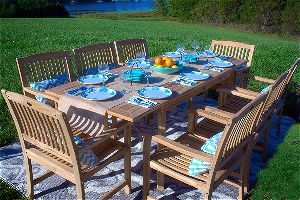 Mildew on wood is a common problem when wood is left outside, exposed to moisture. If wood furniture such as dining sets and Adirondack chairs are neglected outside, with no stain, treatment, sealer, or protection, wood can rapidly deteriorate and get covered in mold and mildew.
Before you start cleaning, it's always a good idea to check for rot. If rot is present, you may be faced with trashing the furniture piece, or going for some costly repairs.
How To Remove Mildew from Wood Furniture
Start on a hot day, and work with gloves and a mask on. Ideally you should avoid using bleach, as bleach can damage the wood, and fundamentally change the finish of the wood.
1 cup ammonia
1⁄2 cup white vinegar
1⁄4 cup of baking soda
1 gallon of water
Scrub as hard as you can, and hopefully, the mildew will come off. Be careful when dealing with mold spores, and wear a mask.
Seal your wood or otherwise stain it to preserve it for the future.
---
Mold on Composite Wood Furniture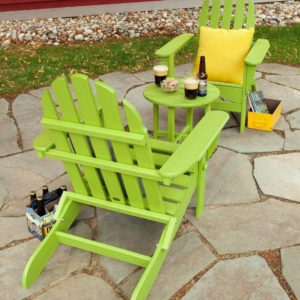 Composite wood is a material that is rapidly becoming one of the most popular choices for outdoor furniture, due to its incredible durability and low maintenance, coupled with a style that looks almost indistinguishable from wood.
Mold and mildew won't grow on cellular PVC composite material itself, but it can make its presence known if other materials like dirt and grass are stuck to the composite wood.
How to Remove Mildew from Composite Wood Furniture
Simply hose down with a garden hose with a spray attachment and most mildew and mold will be removed. For mold and mildew stubbornly present in the grain pattern, you can try a mixture of warm soapy water, or if necessary, move onto a deck cleaner like Olympic Deck Cleaner [Amazon Link], which is safe for most composites.
Last update on 2021-06-15 / Affiliate links / Images from Amazon Product Advertising API
---
Mildew on Fabric and Cushions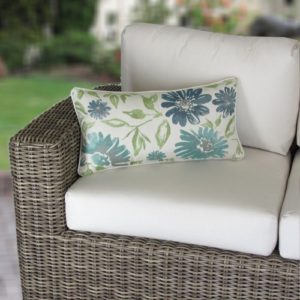 Depending on the type of fabrics you have as part of your patio furniture, mold and mildew can be more or less of a problem. Sunbrella fabrics, olefin fabrics, and other acrylics, are not particularly prone to mildew and mold growth, but other fabrics can be troublesome. See our guide to outdoor fabrics for more information.
Often, outdoor fabrics such as cushions can be unzipped and washed in a washing machine. This will frequently remove troublesome stains, mold, and mildew.
It's never wise to machine-dry cushions, especially zipper cushions, as the heat of a dryer can shrink the fabric, and you won't be able to get it over the cushion.
How To Remove Mildew from Fabrics and Cushions
Always check the tags on your fabric for cleaning information, and always do a spot test on fabrics if you don't know how they will react to bleach. To do a spot test, spray a small amount of the cleaning solution on an inconspicuous area to test if the solution damages the fabric color.
If your fabric is colorfast:
1/2 cup bleach
1 gallon water
If your fabric is not colorfast:
Try the following color-friendly solution to clean your fabric:
1/2 cup of lysol
1 gallon hot water
Clean your fabric with that solution, and then rinse with a mixture of:
1 cup lemon juice
1 cup salt
1 gallon hot water
Sunbrella and Solution Dyed Acrylic:
Sunbrella should be mold resistant, but if dirt or other material is left on Sunbrella fabric, mold and mildew may present itself. If that happens, clean with a mixture of:
1 cup bleach
1/4 cup mild soap
1 gallon of water
Scrub thoroughly and let air dry. If that doesn't do the trick, try increasing the ratio of bleach to the remaining ingredients slightly, and give it another go.
---
Mildew on Patio Umbrella Canvas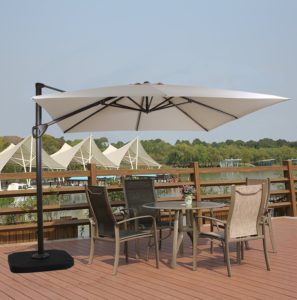 Patio umbrellas and cantilever umbrellas are exposed to the sun, rain, wind, and occasional cats, dogs, and dinosaurs. Though some patio umbrella fabrics like Sunbrella and Olefin are mold and mildew resistant by their nature, mildew can still make its way onto a patio umbrella cover.
How to Remove Mildew from Umbrella Canvas
First open the umbrella fully. Wet down the umbrella and attack it with a scrub brush (the bristle side, of course), which will hopefully get much of the mildew off.
If that doesn't work, you can move onto a solution of:
1 quart vinegar
1 quart warm water
1 cup mild detergent
Mix that up and use your scrub brush to rub the solution over the patio umbrella canvas. Follow up with a hose down with the garden hose, and your mildew should be gone.
Let dry in the sun.
---
Mildew on Resin Wicker Furniture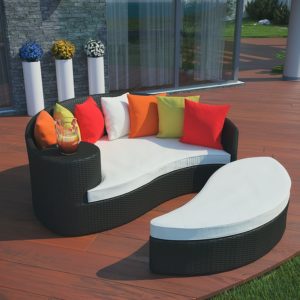 PE-Resin wicker has become more and more popular as an outdoor furniture material due to its low maintenance, great look, ease of styling, and relatively low price.
Resin wicker daybeds and sectional sets have become ubiquitous on patios around the world.
Resin wicker is pretty mold and mildew resistant, but if mildew is present, it can be a real pain to get off due to all the little crevasses and locations that are difficult to get, and all the surfaces difficult to scrub.
How to Remove Mildew from Resin Wicker Furniture
Typically a good hose down will get much of the mildew off of resin wicker furniture. Remove all the cushions and spray down with a garden hose with a spray nozzle, or a pressure washer (be gentle, and don't stand too close!) to attack all the troublesome little crags.
If that doesn't work, you can try wiping the areas down with a mixture of mild soap and water.
Let dry in the sun.
---
Mildew on Metal Outdoor Furniture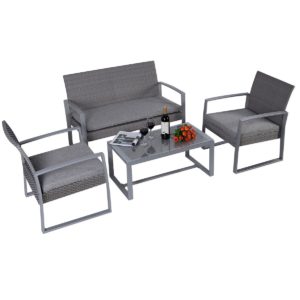 Mildew occasionally presents itself on metal outdoor furniture, though this does not commonly occur. Typically the mildew is present due to other materials on the metal, as opposed to mildew on the metal itself.
Regardless, metal is pretty easy to clean.
How To Remove Mildew from Metal Furniture
Usually, you can just hose down the metal with a garden hose or pressure washer to remove mildew and mold. If it is more persistent, then you can soak it with a mixture of mild hand soap and water.
---
Preventing Mold and Mildew Growth on Outdoor Furniture
Furniture Covers
One of the best ways to prevent mold and mildew growth on outdoor furniture is to use high-quality furniture covers, with air vents. You want air to be able to flow through the cover in order to encourage any damp areas to dry. High-quality covers have vents that are positioned like upside-down pockets. The mesh material is inside the pocket, and allows air to flow through the inside of the cover, but prevents water from entering.
Cushion Storage
Store outdoor cushions whenever possible in a deck box, resin shed, or other storage areas. As mentioned above, you want the storage area to have some ventilation to enable any moisture that is present to be able to dry out.
Pressure Washing
Picking up a pressure washer like the Sun Joe SPX3000 can make regular pressure washing a breeze. Just be careful pressure washing teak outdoor furniture, as you can remove the natural teak oils and damage the wood. See our Pressure Washer Buying Guide for more information.
---